Today I am focusing on an Indonesian favorite. Rojak Salad, in my previous posts I discussed vermicelli salads, cauliflower salads and taco salads. The Rojak salad is completely different.
What is a Rojak Salad?
Rojak is a salad dish of Javenese origin commonly found in Indonesia, Malaysia and Singapore. The Rojak salad comprises a mixture of sliced fruit and vegetables served with a spicy palm sugar dressing. It has been described as a tangy and spicy fruit salad due in large part to its sweet, hot and spicy dressing which is made from ground chili, palm sugar and peanuts.
What is The Rojak Sauce made of ?
Prawn Paste is what Rojak sauce is made out of. Fermented prawn paste, sugar, lime and chili paste are the main ingredients.
How Many Calories are in a Rojak Salad ?
This salad admittingly does not have the fewest calories. But every once in a while you can treat yourself to something different. A normal size serving usually yields over 500 calories.
Variations of Rojak Salad In Indonesia
Rujak Pengantin Salad
Pengantin means "bride and groom pair in Indonesia. This Rujak reminds people of the Indonesia Colonial Cuisine. The main ingredients are slices of boiled eggs, potatoes, fried tofu, carrot, pickles, bean sprouts, lettuce, cabbage, cucumber, emping crackers, roasted peanuts and peanut sauce. Sometimes in certain recipes, the peanut sauce is mixed with mayonnaise. For the full recipe, click here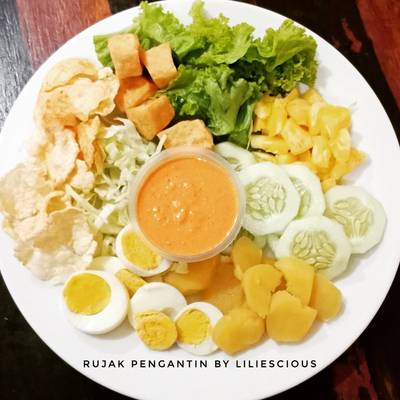 Rujak Cingur
Cingur means "mouth" in Javanese. Surabaya is where this salad originated. This specialty Rujak from East Java consists of a meaty taste. Ingredients include cooked buffalo or cow lips, bangkuang, an unripe mango, cucumber, kangkung, tofu and tempe. All of it served in a delicious black sauce containing prawn paste and crushed peanuts. To finish it off, the Rujak Cingur is sprinkled with fried shallots. Click Here for recipe
Rujak Kuah Pindang
Rujak is a popular street food in many parts of Bali. A balinese type of the Indonesian fruit rujak but instead of using the normal rujak dressing, the fruits are soaked in a fish broth. The broth consists of fermented prawn paste (Terasi), salt, bird's eye chili and pindang fish broth. Click here for a recipe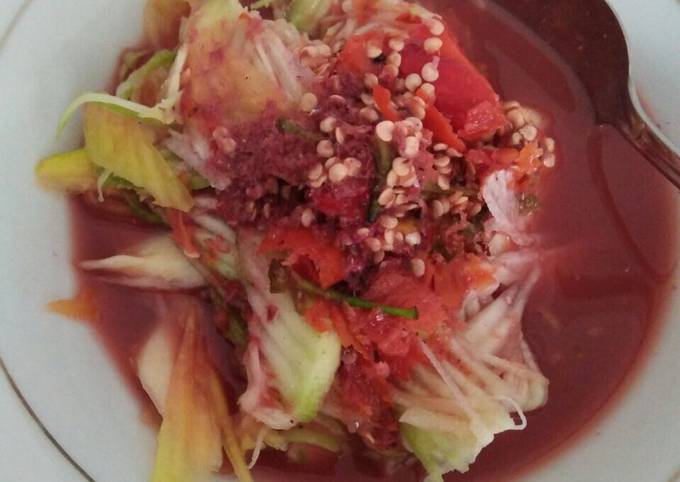 Rujak Petis
Here is another variant of Rujak from Surabaya. Rujak Petis consists of slices of bangkuang, an unripe mango, cucumber, eater spinach (kangkung), kedondong, tofu and sobean sprouts. All of this is again served in a black sauce made from Petis and topped with fried shallots, salt, palm sugar, an unripe banana and crushed peanuts. Click Here for this Rujak Petis recipe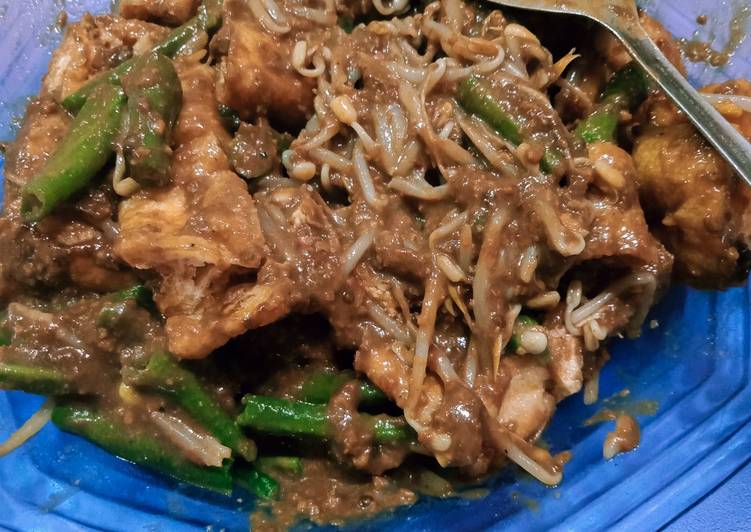 Rujak Tolet
Rujak Tolet is similar to fruit rujak and is also from Surabaya. Aside from unripe fruits the rojak also includes fried garlic, fried tofu, and occasional beef tendons. The sauce is Petis based mixed with palm sugar, slices of raw bird's eye chili and sweet soy sauce. Click Here for a Rujak Tolet recipe.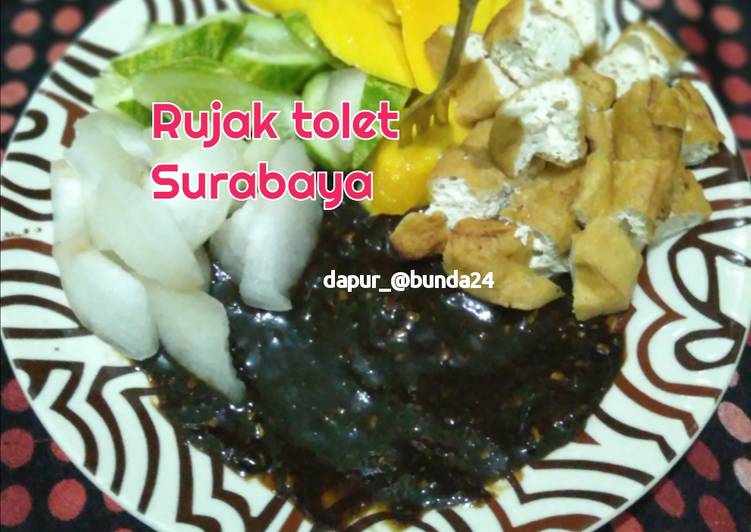 Rujak Juhi
Juhl means salted cuttle fish in Indonesia, consisting of fried kwa tofu, fried boiled potatoes, cucumber, fried shredded salted cuttlefish, noodles, lettuce, cabbage, peanut sauce, vinegar and fried garlic. Click Here for this Rujak Juhi recipe
Rujak Shanghai
This is named after "Bioscoop Shanghay" which is a cinema in Shanghai China containing seafood, Rujak Juhi, boiled sliced gurita (octopus) and jellyfish served with thick red sweet and sour sauce, mixed with pineapple juice and toasted crushed peanuts. Click Here for this Rujak Shanghai recipe.
Rujak Soto
This dish consists of a unique blend between beef soto and rujak cingur. Vegetables such as spinach and bean sprouts are served with lontong rice cake in petis sauce poured with soto soup.