What Is Octopus Salad Made Of ?
Octopus Salad are typically made with Fresh Tomatoes, Cilantro, Cucumbers and Chiles. This makes a fabulous side dish or great to top with tacos and tostadas. The octopus is often cooked in an acidic marinade without any heat.
How Do You Make Octopus Soft and Tender ?
There is a Greek food scientist that proposes that you cook an octopus with a little vinegar because it's acetic acid dissolves octopus connective tissue. Vinegar can also break down the resulting gelatin.
Is Octopus Healthy To Eat ?
According to Heart Health, Octopus is an excellent source of omega-3 fatty acids, that are linked to a range of heart-healthy benefits.
What Tastes Better Squid or Octopus ?
When it comes to cooking, these differences in size and shape are a direct result to distinctions in texture and taste. Octopus is lighter, less chewier and an overall great low-calorie protein. It seemingly has the ability to absorb the flavors of the other ingredients it's prepared with.
Here Are My Favorite Salads With Octopus
Octopus Salad : The Defined Dish Click Here
Look how long this salad is. Filled with 3 delicious pounds of braised octopus, colored peppers, red onion chunks. Serve this and this octopus salad will be taking center stage.
Tako Salad : Japanese Cooking 101 : Click Here
Delicious octopus, cucumbers and wakame seeweed is what you need to enjoy this Tako Salad the same way you would if you were at a Japanese restaurant.
Italian Octopus Salad : Black Pepper Chef Click Here
Look how creative this is. This looks like the perfect appetizer at a restaurant. Delicious, mouthwatering octopus at it's finest. Serve this and you will have some surprised guests.
Grilled Octopus Salad : Girls Can Grill Click Here
You have to agree, that grilled octopus is so tempting. Perhaps you will change your dinner plans when you get familiar with this grilled octopus salad.
Japanese Octopus Salad : Low Carbing Asian Click Here
Are you in the mood for Japanese food tonight? If so this Japanese Octopus salad is low carb and is a great contribution to your diet. This is a must try.
Mediterranean Octopus Salad : Food 52 Click Here
In the cold winters you will feel like being on a Mediterranean cruise with this Mediterranean Octopus salad. Filled with great taste it sure will satisfy you and your guests.
Portuguese Octopus Salad : International Cuisine Click Here
If you are in the mood for Portuguese tonight, look no further. This is Portuguese food at it's finest. A flavourful lip smacking favorite. You will be telling your friends about it.
Octopus Potato Salad : Food 52 Click Here
You probably never thought about the idea of eating a potato salad with an octopus. This salad is a perfect symphony of texture and flavor.
Croatian Octopus Salad : International Cuisine Click Here
Talk about decorative. Straight from the Dalmation Coast, they are absolutely right. This Octopus salad goes great with a nice glass of wine.
Seafood Salad : She Loves Biscotti Click Here
This is described as the best Italian appetizer. I think they have a case. I love looking at the lemon walls protecting with mouthwatering shrimp, scallops and calamari
Greek Style Octopus Salad : Greek Boston Click Here
Here is an octopus salad with a Greek twist. You can tell how juicy this Octopus Salad is going to taste with the tasty juice at the bottom. Oh does it look yummy.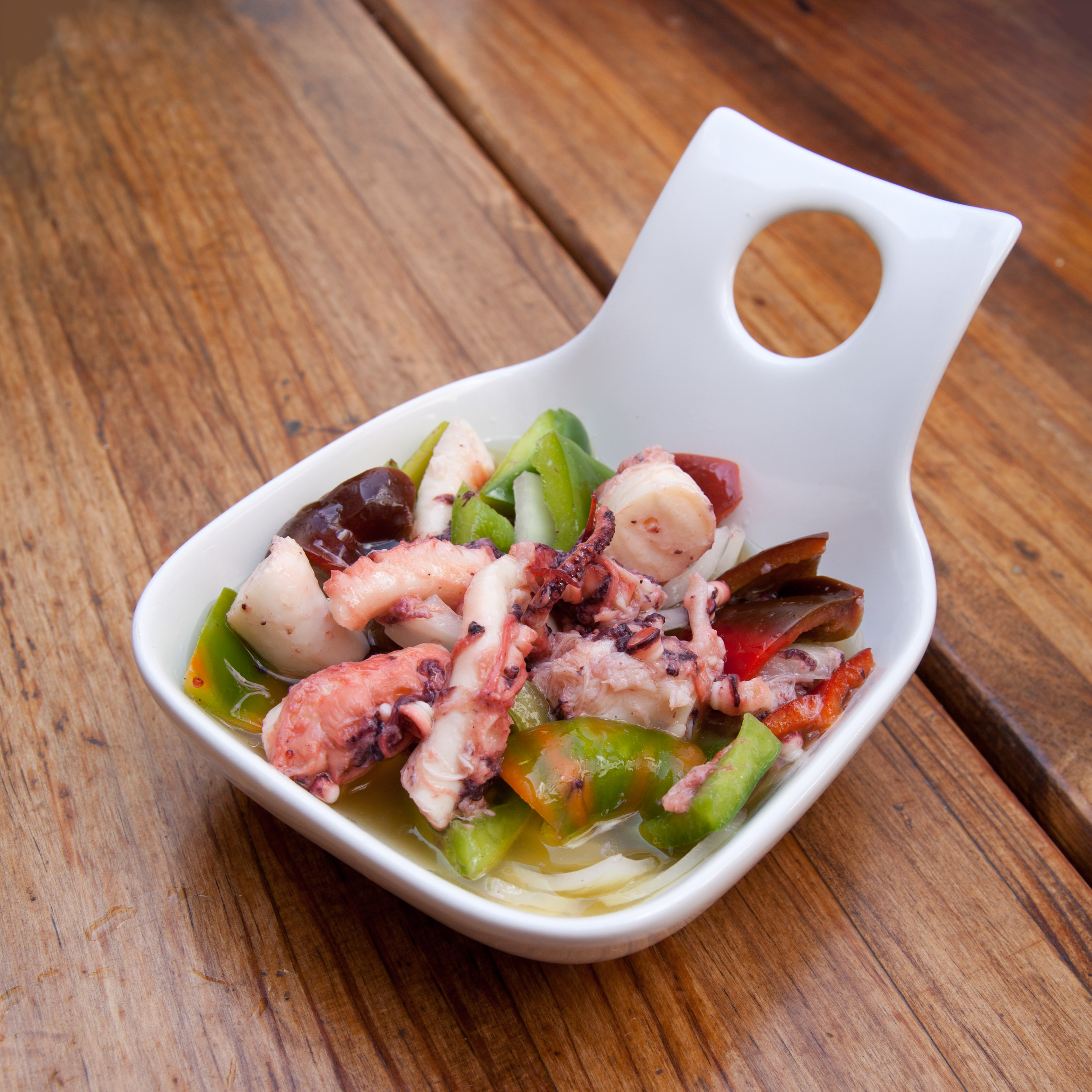 Grilled Octopus Salad : Just A Pinch Click Here
This Grilled Octopus salad might give you the feeling that you are at a wedding. Everything looks so delicious. Feel like spoiling yourself tonight?, this octopus salad is for you.