Japanese Sesame Salad Dressing : The Spruce Eats Click Here
This dressing is authentic and sure adds to the experience of enjoying Japanese food. A delicious mix of white sesame seeds, rice vinegar and soy sauce.
Wafu Dressing : Just One Cookbook Click Here
Here is a popular dressing that consists of soy sauce, rice vinegar and grated onion. The grated onion seems to be the stand out element in this dressing.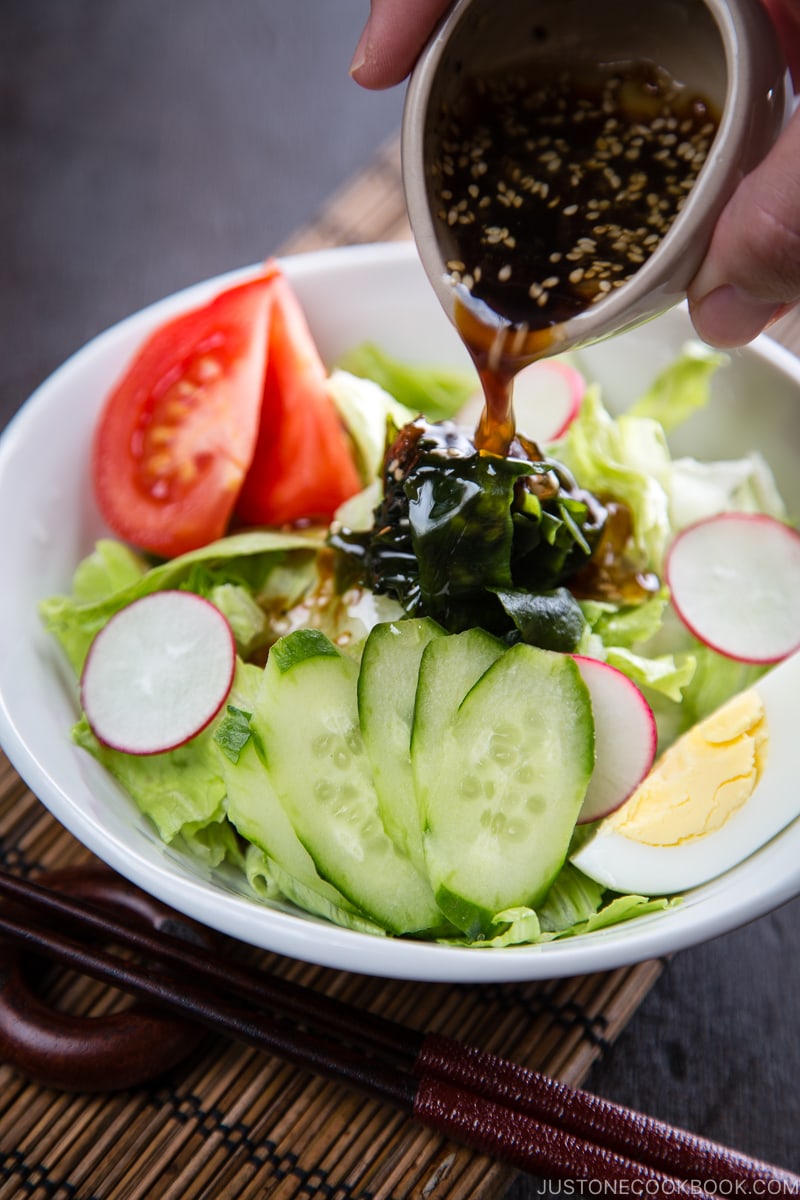 Japanese Kani Salad : Just One Cookbook Click Here
This salad is so easy to make. If you are busy, this isn't going to eat up too much time. This salad is also know as a Kanikama Salad. What a great name.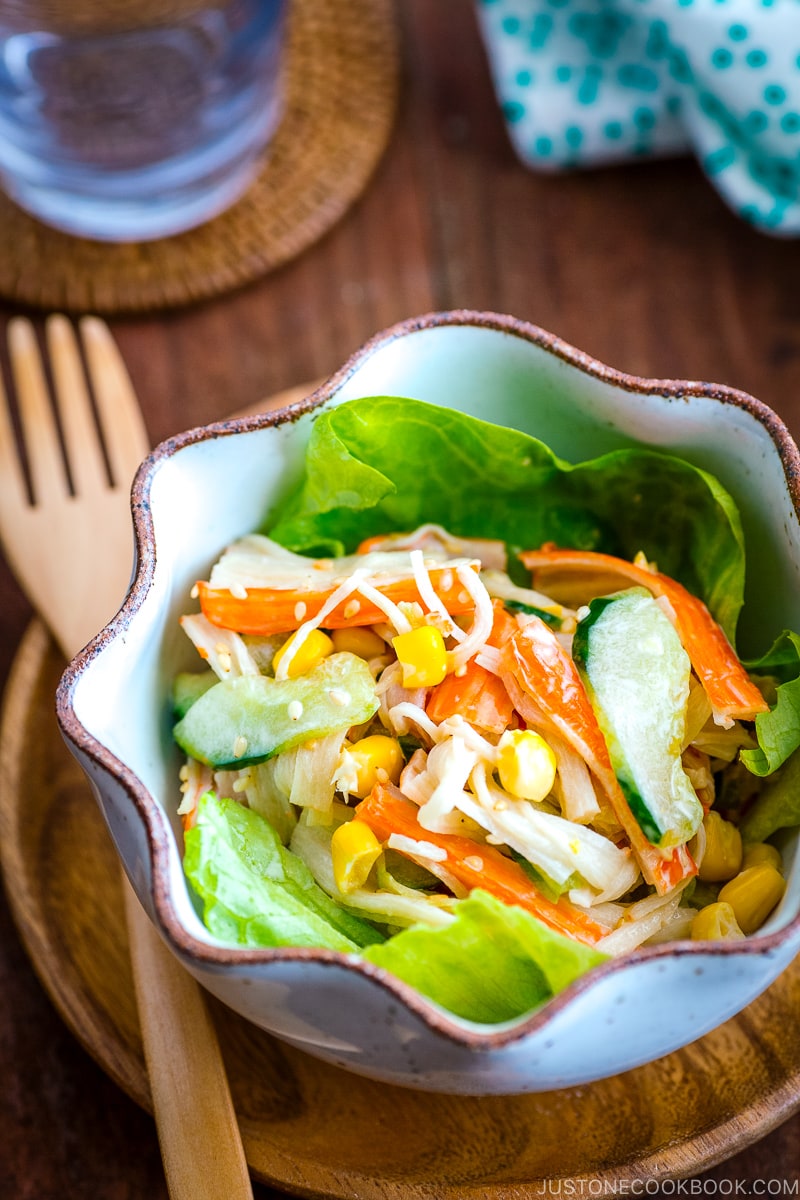 Japanese Kani Salad : Food For Net Click Here
Here is another Japanese Kani Salad that is just bursting with beautiful colors. Beautiful carrots, delicious crab sticks and bright mango is what it takes to make this Japanese salad.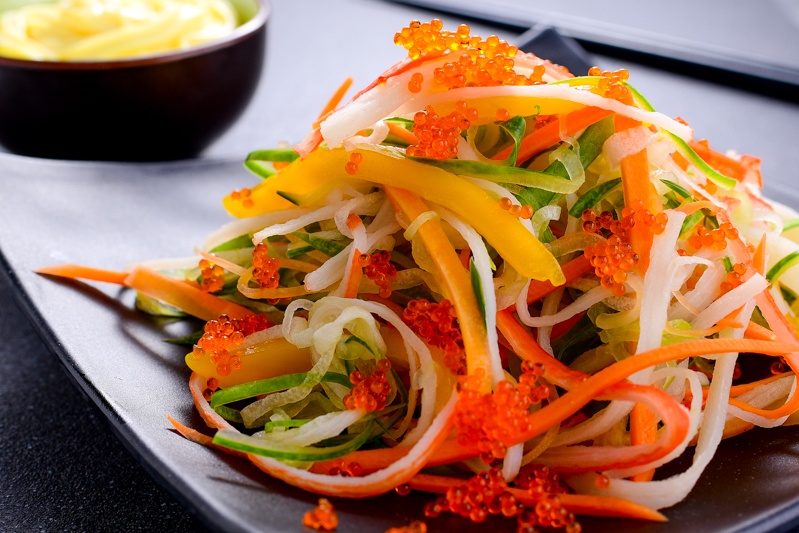 Japanese Cucumber Salad : The Mom 100 Click Here
I love, just love looking at those Cucumber chips. Without even taking 10 minutes to eat, the cucumbers are combined nicely with the attractive sesame seeds
Japanese Potato Salad : I Heart Umami Click Here
There are some really good ingredients in this Japanese Potato Salad. Persian cucumbers, Russet potatoes, carrots and peas, cooked ham, scallions and boiled eggs makes this salad a variety show.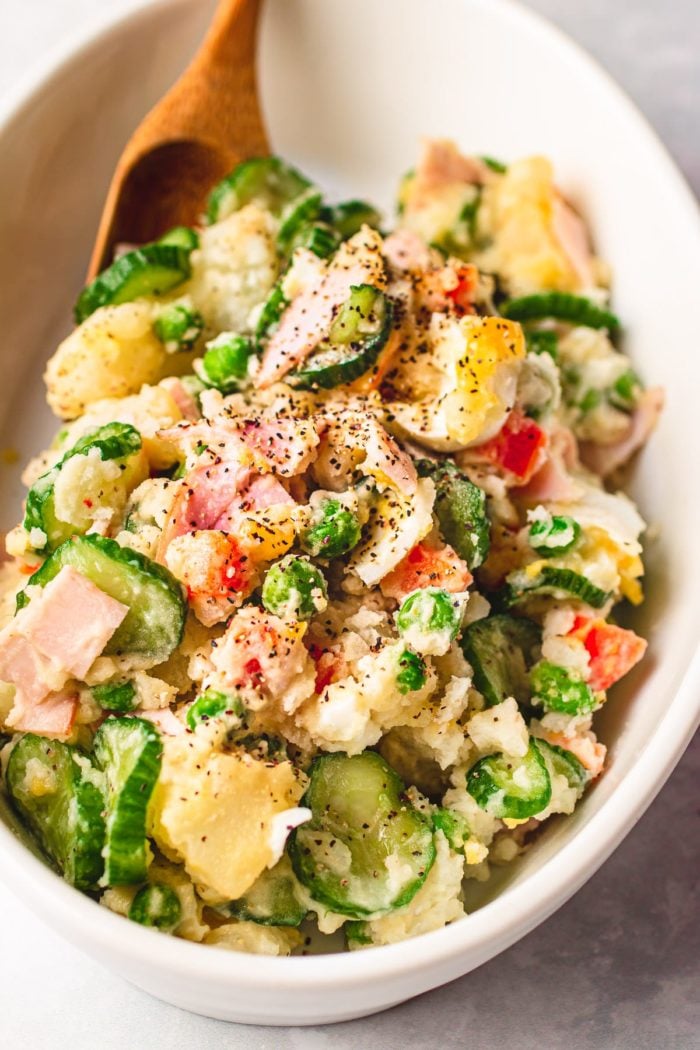 Japanese Salad Dressing : Allrecipes Click Here
Some more tasty ingredients. minced onion, soy sauce, ketchup, minced celery, lemon juice and ginger root. Your belly will love you even more.
Japanese Avocado Salad : Onolicious Hawaii Click Here
Welcome to slice city. So dashing, this salad doesn't just have one or two slices of avocado, it's got over 20 of them. This is going to taste really really creamy.
Japanese Ginger Carrot Salad Dressing : Jeanette's Healthy Living Click Here
If you are looking for a Japanese salad that tastes just like what you expect at a Japanese restaurant, you have come to the right spot. Those roasted carrots, you might agree, look spectacular.
Japanese Cucumber Salad : Food And Nutrition Click Here
I look at this Japanese Cucumber Salad and think that there is not just detail but there was effort made to make this salad look so delicious.
Instant Pot Japanese Potato Salad : Food Is A Four Letter Word Click Here
Heads up. Japanese Mayonnaise is going to please you. This Japanese salad has so much color and so much flavor. What doesn't taste great that comes out of an instant pot.
Japanese Potato Salad : FAE Magazine Click Here
The main difference with a Japanese Potato salad as opposed to a potato salad in North America, the sweet and sour taste. Try experiencing the difference.
Japanese Salad Dressing : Two Kooks In The Kitchen Click Here
I have never seen a salad like this one. A surface full on sliced cucumbers that is topped with a carrot ginger dressing. This dressing the favorite of many, it might become the favorite of yours.
Wafu Dressing : Wandercooks : Click Here
In less than a minute you can come up with a dressing that is filled with soy sauce flavor and will remind you of being in a Japanese restaurant. Soy sauce, red wine vinegar, sugar, sesame oil and vegetable oil are what it takes.
Homemade Japanese Sesame Salad Dressing : The Japantry Click Here
Here is a different kind of Japanese Sesame salad dressing. Not the one you might be accustom to. So rich and so creamy. Filled with ground sesame.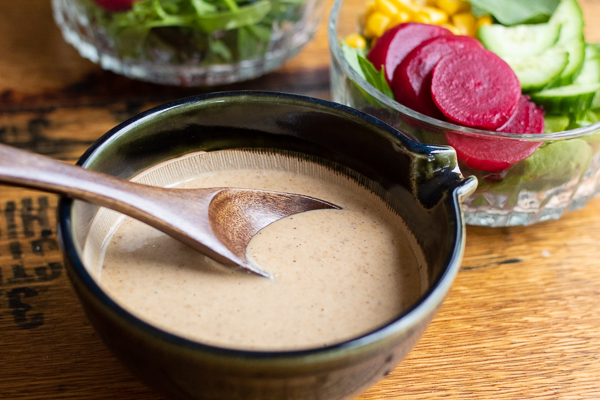 Japanese Carrot Ginger Salad : The Endless Meal Click Here
Making a jar of this Japanese Carrot Ginger Salad is a great addition to your salad dressing collection. Easy to make and delicious. Carrots, onion, ginger, rice vinegar and oil is what you need.
Fun Facts About Japan
The oldest company in the world is based in Japan, Kongo Gumi
Japan makes half of the world\s zippers
Japanese melons cost over $200 each
Slurping your noodles is not considered rude
Over 80 percent of the landmass is mountainous
There are more seniors than kids
There are 6852 islands in Japan
What Do Japanese People Do For Fun
Play Tennis
Go Jogging
Play Golf, You can actually play golf on top of a building
You can go skiing after work
What Is Japan Known For
Sumo Wrestling
Tea Ceremonies
Preserving the tradition of century old art festivals
Symbolism