The Best Vegan Tuna Salad Recipes
n this post I am going to go over delicious Vegan Tuna Salad recipes.
In my last posts I talked about Tuna Salad with Avocado, Tuna Salad with Pasta and Tuna Salad with Pasta.
Vegan Tuna is made from soya protein. Tuna mayonnaise wouldn't be the first food one would think of as a vegan food because of the fact that tuna contains fish and egg.
VEGAN CARROT TUNA SALAD
Below is a recipe from Wholesista. Have you ever tried a carrot tuna salad?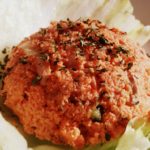 CHICKPEA VEGAN TUNA SALAD
The Spruce Eats with this Chickpea Tuna Salad recipe. Dill Wees and Vegan Mayonnaise stand out in this recipe.
One Green Planet has the Vegan Chickpea Tuna Salad. Vegan Mayo, Red Onion and Dijon Mustard
LEMONY CHICKPEA VEGAN SALAD
Check out this lemony chickpea vegan salad by Eat Yourself Skinny
Here is a Lemony Chickpea vegan salad with Quinoa and Kale from Garlic & Zest.
2 OTHER VEGAN TUNA SALADS
Loving it Vegan has the Vegan Tuna Salad. Just look at how appetizing this looks. Very Tasteful
Connoisseur Veg has the Vegan Tuna Salad. Filled with savory pickle relish and delectable dijon mustard