Macaroni Salad, Oh does it ever taste good.
Everybody's Macaroni Salad tastes are different. When you are at a picnic and the people in the backyard are in such a great mood, BOOM macaroni gets put on the table in a big bowl and five or six people are trying to reach for one set of tongs.
But if you are generous or as a courtesy you never want to take to much thinking that maybe you won't leave much behind for others. That is why it is a good idea to make lots for everyone to have. You can always take home leftovers
There are so many ways you can come up with the best MACARONI SALAD
Macaroni Salad with AVOCADO
Macaroni Salad with FRUIT COCKTAIL
With JALAPENO
With FETA
Macaroni Salad with DILL PICKLES
Macaroni salad with SHRIMP
with PINEAPPLE
with SALMON
Macaroni Salad with BEETS
With BLACK OLIVES
With BROCCOLI
Macaroni Salad with NESTLE CREAM
With LOBSTER
With ASPARAGUS
Macaroni Salad with GREEK YOGURT
With HAM AND CHEESE
With CRAB
Macaroni Salad with CHICKEN
With BLACK OLIVES
With SAUSAGE
Macaroni Salad with FRUIT COCKTAIL
Delicious Macaroni Salad with JAPAPENO POPPERS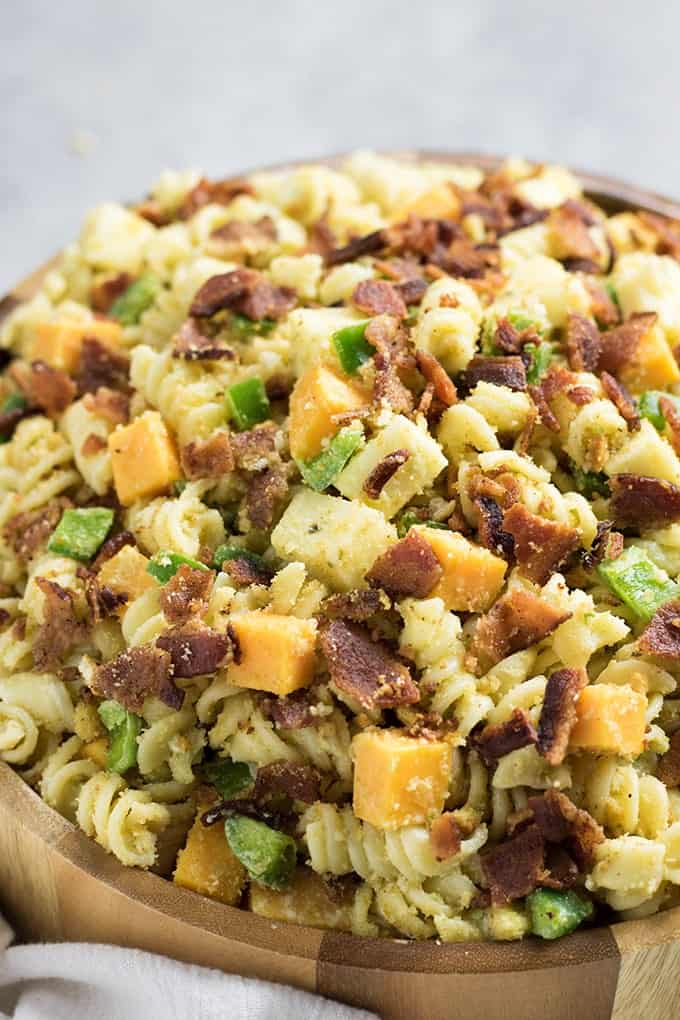 An Irresistable Macaroni Salad with SHRIMP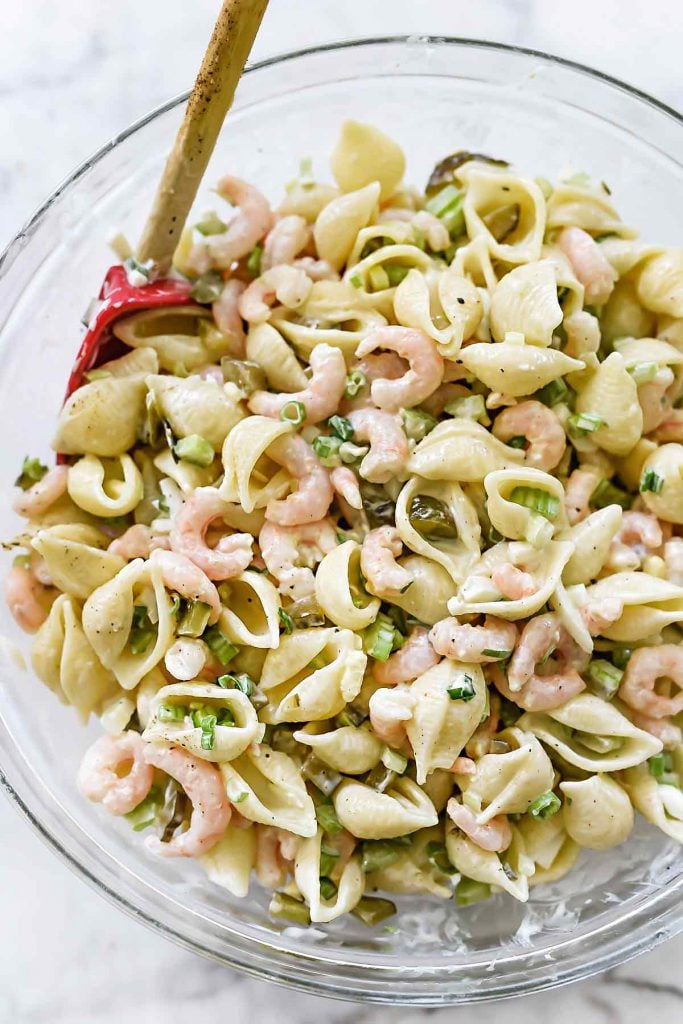 Macaroni Salad with SALMON, This Looks SAVORY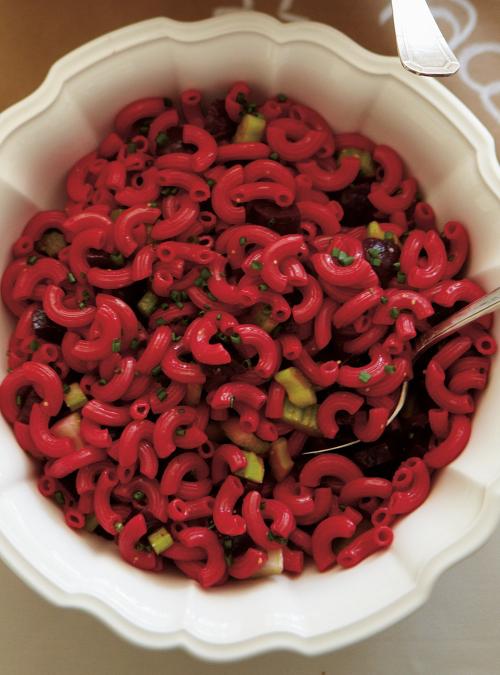 Macaroni Salad with NESTLE CREAM. That's right. You heard correctly
Macaroni Salad with GREEK YOGURT
Café Delites : Macaroni Salad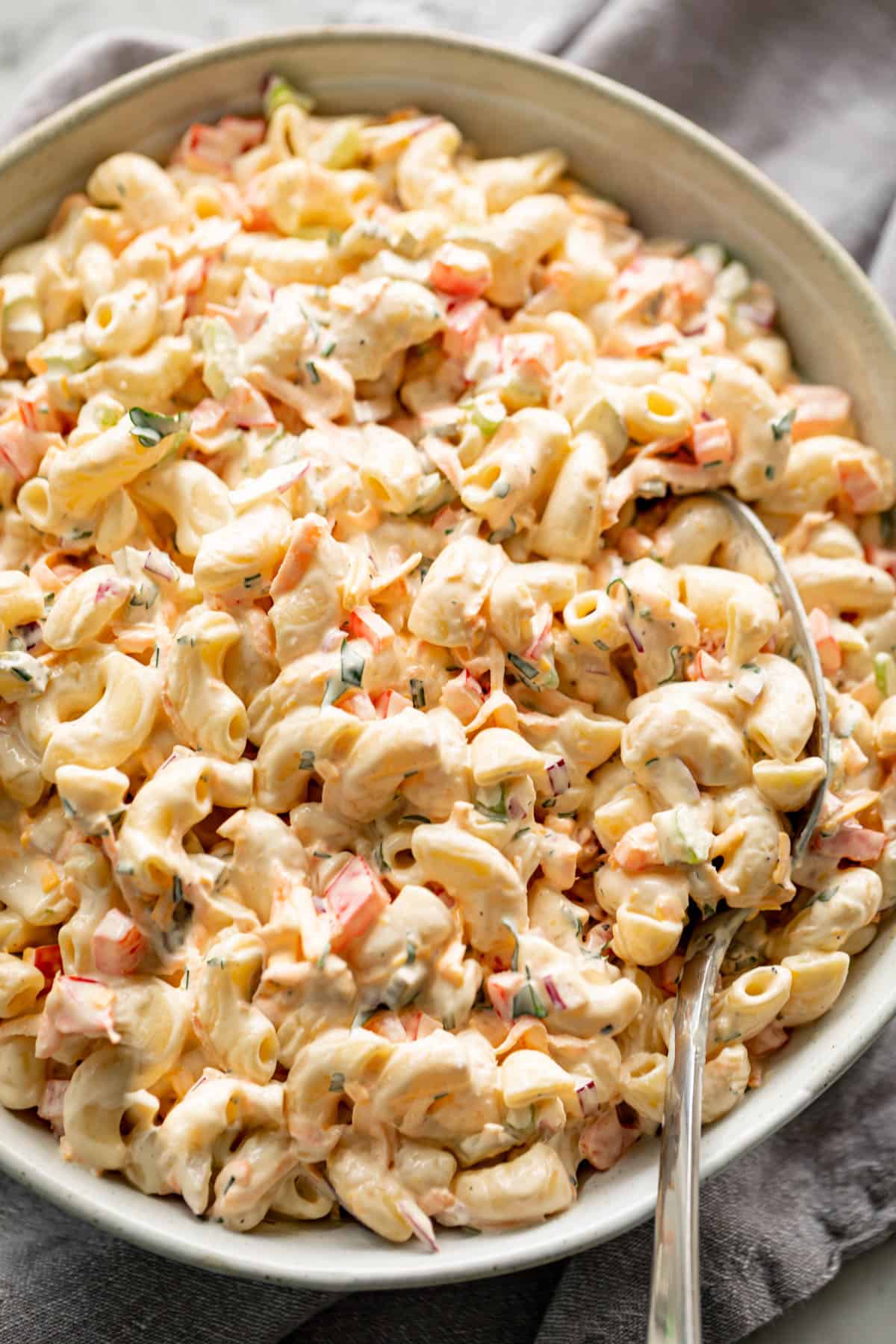 Parade : Country Macaroni Salad
Cooking With Ria : Trinadad Macaroni Salad
Center Cut Cook : TACO Macaroni Salad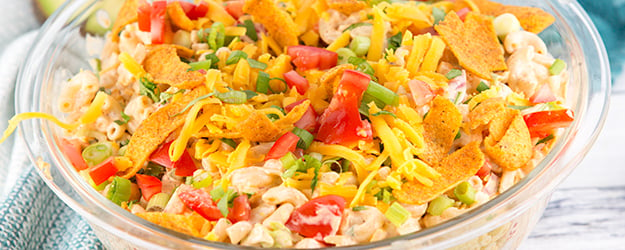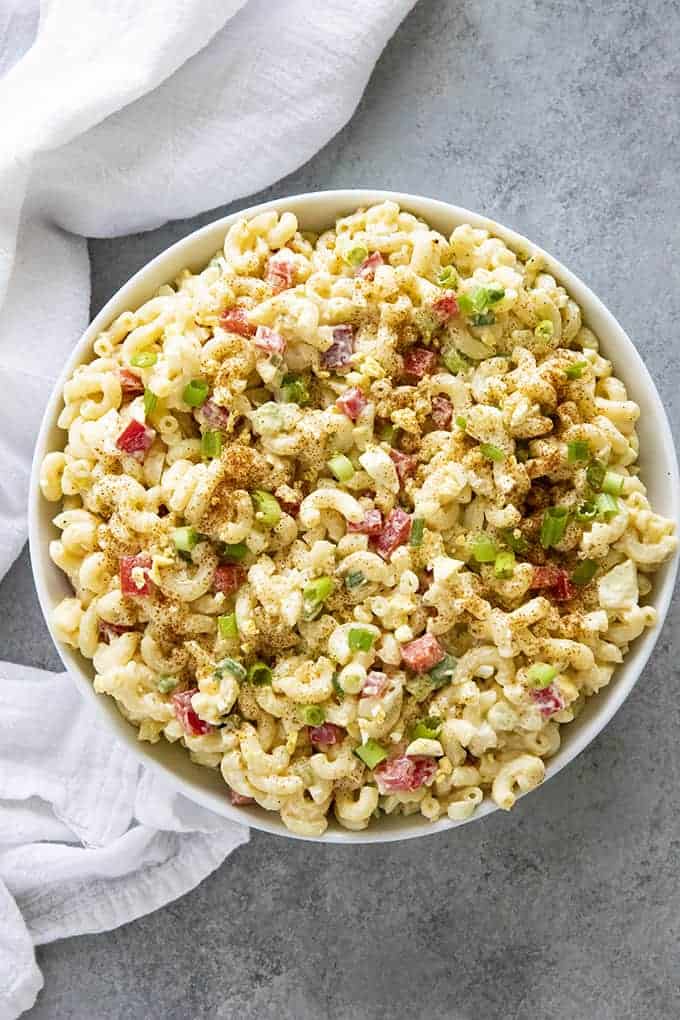 Foxy Folksy : 727 calories, 44g
Food.com : HAM and Macaroni Salad : 548 calories, 29g fat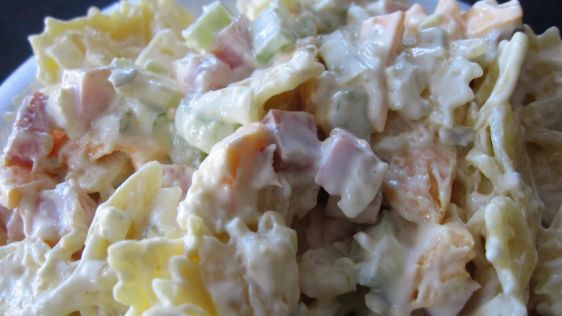 Once Upon A Chef : Pasta Salad With PESTO : 544 calories, 36g fat
Kawaling Pinoy : PASTA FRUIT SALAD, 422 cals, 18g fat
The Kitchn GIrl : Damn Good Classic Macaroni Salad 408 calories, 12g fat
Taste Of Home : BACON Macaroni Salad : 402 calories, 33g fat
My Creative Manner : Old Fashion Macaroni Salad, 390 calories,
Recipe Tin Eats : Macaroni Salad 319 calories, 2g fat
Eating on a Dime : Macaroni Salad 291 calories, 12g fat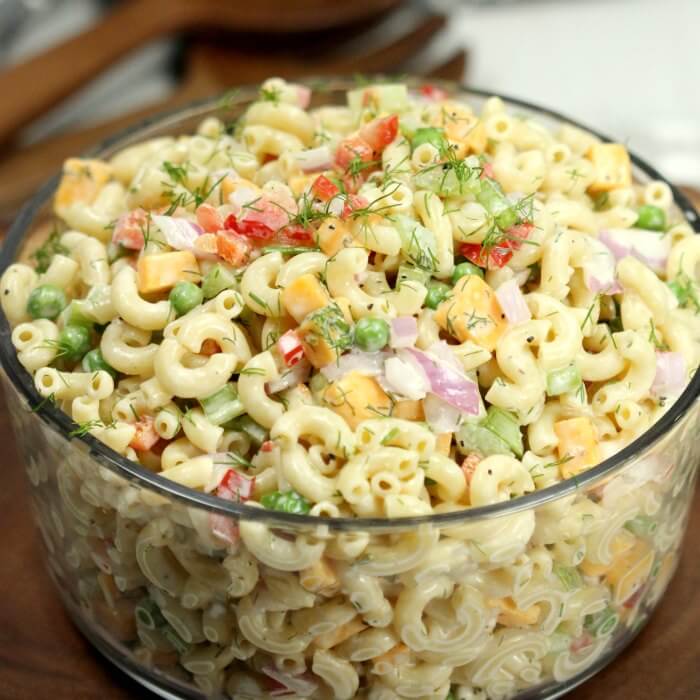 The Sugar Spun Run : 288 calories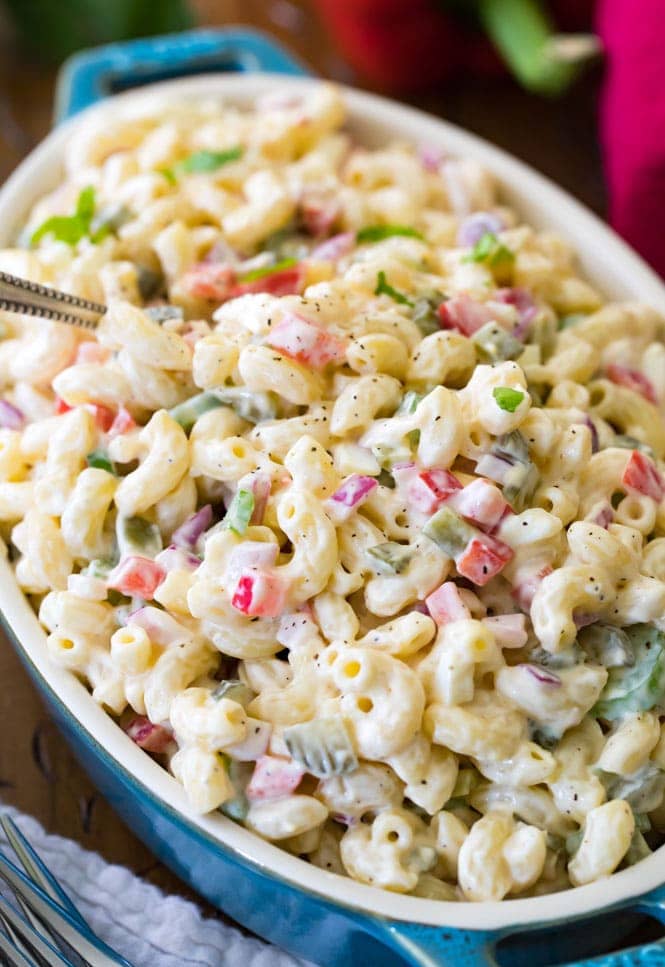 Taste Of Home : 276 calories, 15g fat
Peas and Crayons : 250 calories, 17g fat
Allrecipes : Not Your Usual Pasta : 247 calories, 11.8g fat
Healthy Seasonal Recipes : GREEK YOGURT Garden Macaroni Salad with Cheddar, 210 calories, 8g
Daring Gourmet : 188 calories, 10g fat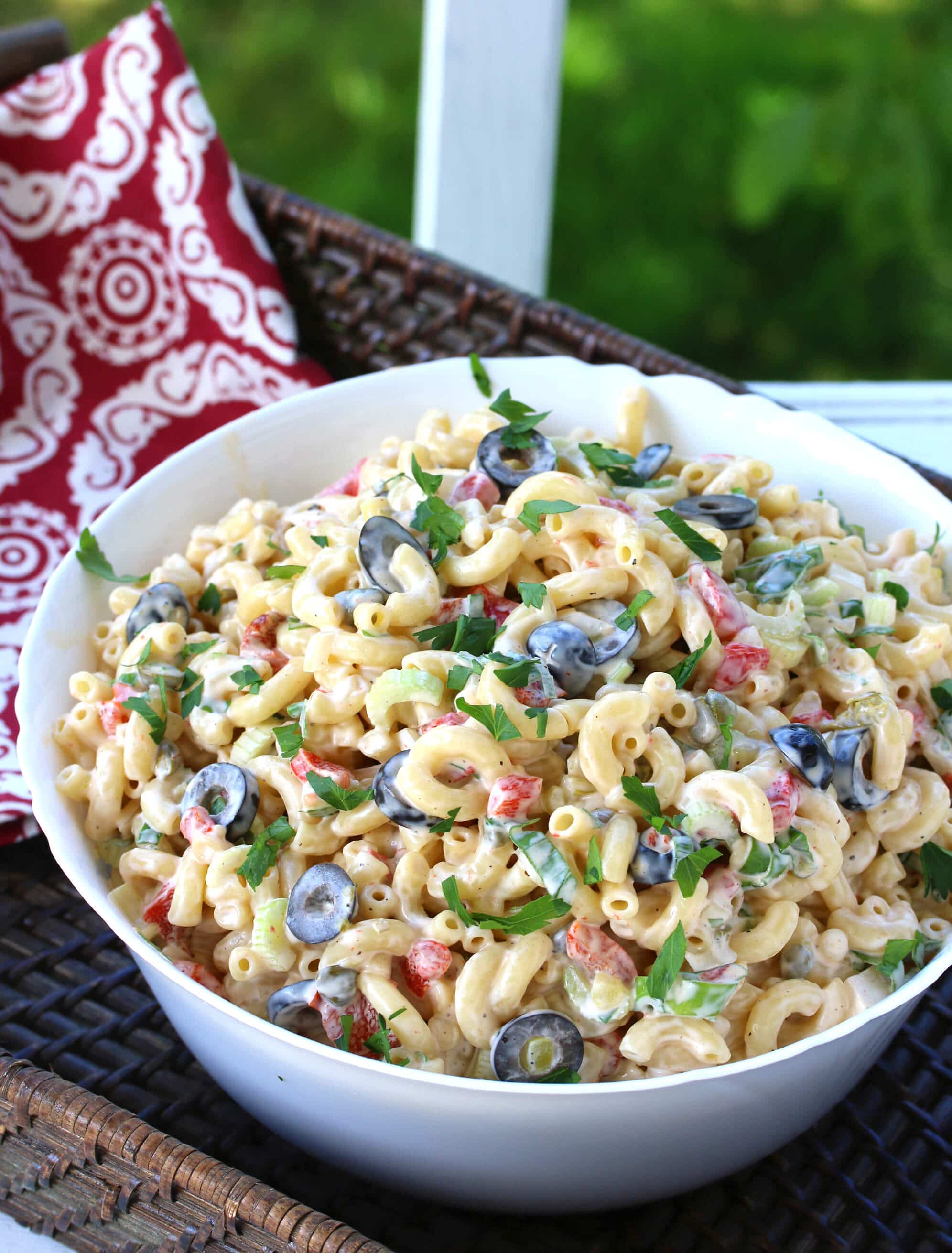 My Food and Family : Bloody Mary Pasta Salad, 160 calories, 4g fat
Okonomi Kitchen : Japenese Macaroni Salad : 150 calories, 4.4g fat
NOW. HERE ARE MY 10 FAVORITE MACARONI SALADS
10. Taste of Lizzy T : CLASSIC TUNA Macaroni Salad, filled with elbow macaroni, hard boiled eggs and tuna fish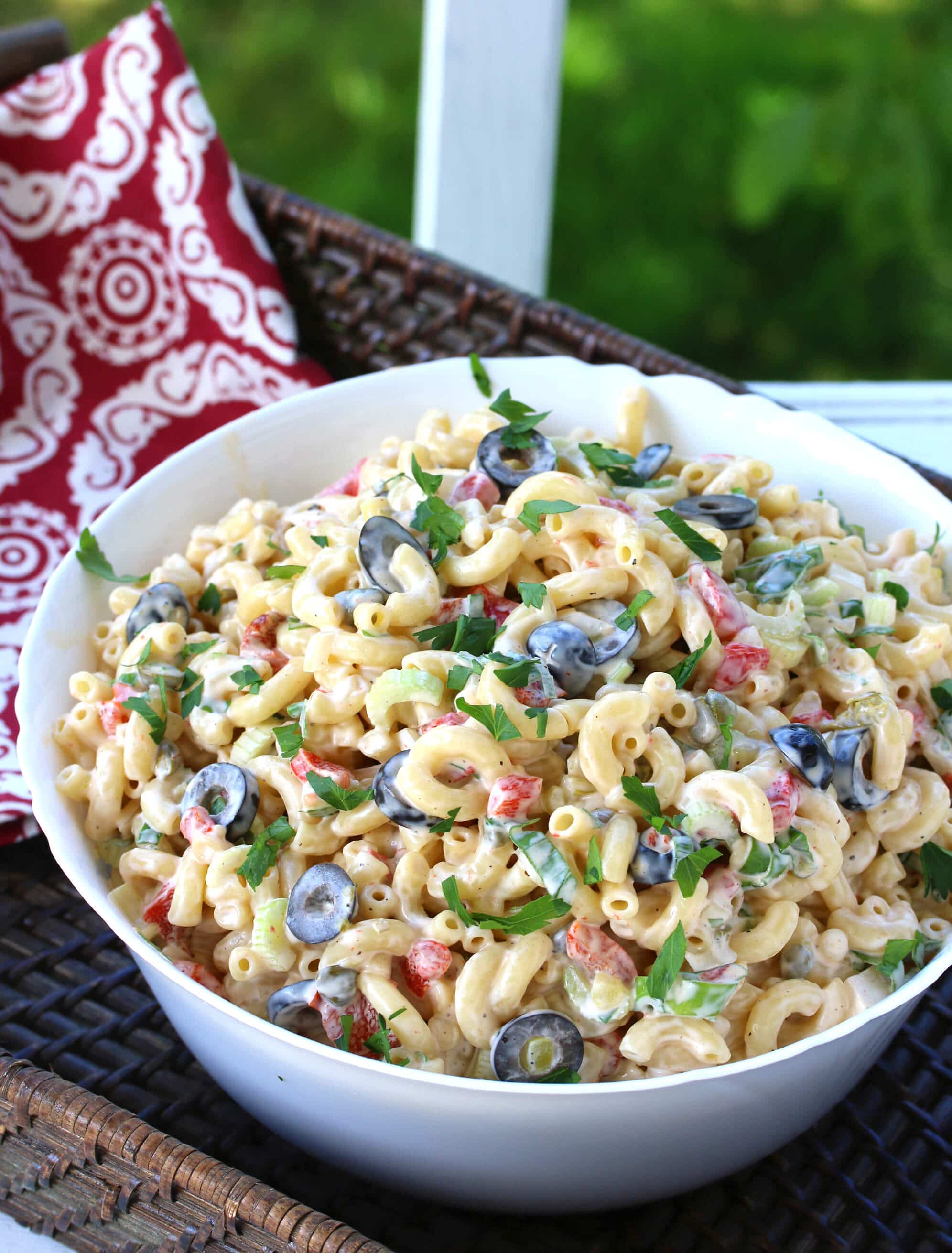 8. Skinny Taste has the Macaroni Salad with Tomatoes. Filled with ONION, MAYO, ELBOW PASTA and BLACK OLIVES
6. The Chunky Chef : Jalapeno Popper Macaroni Salad. Filled with CANNED JALAPENOS, CHEDDAR CHEESE and SOUR CREAM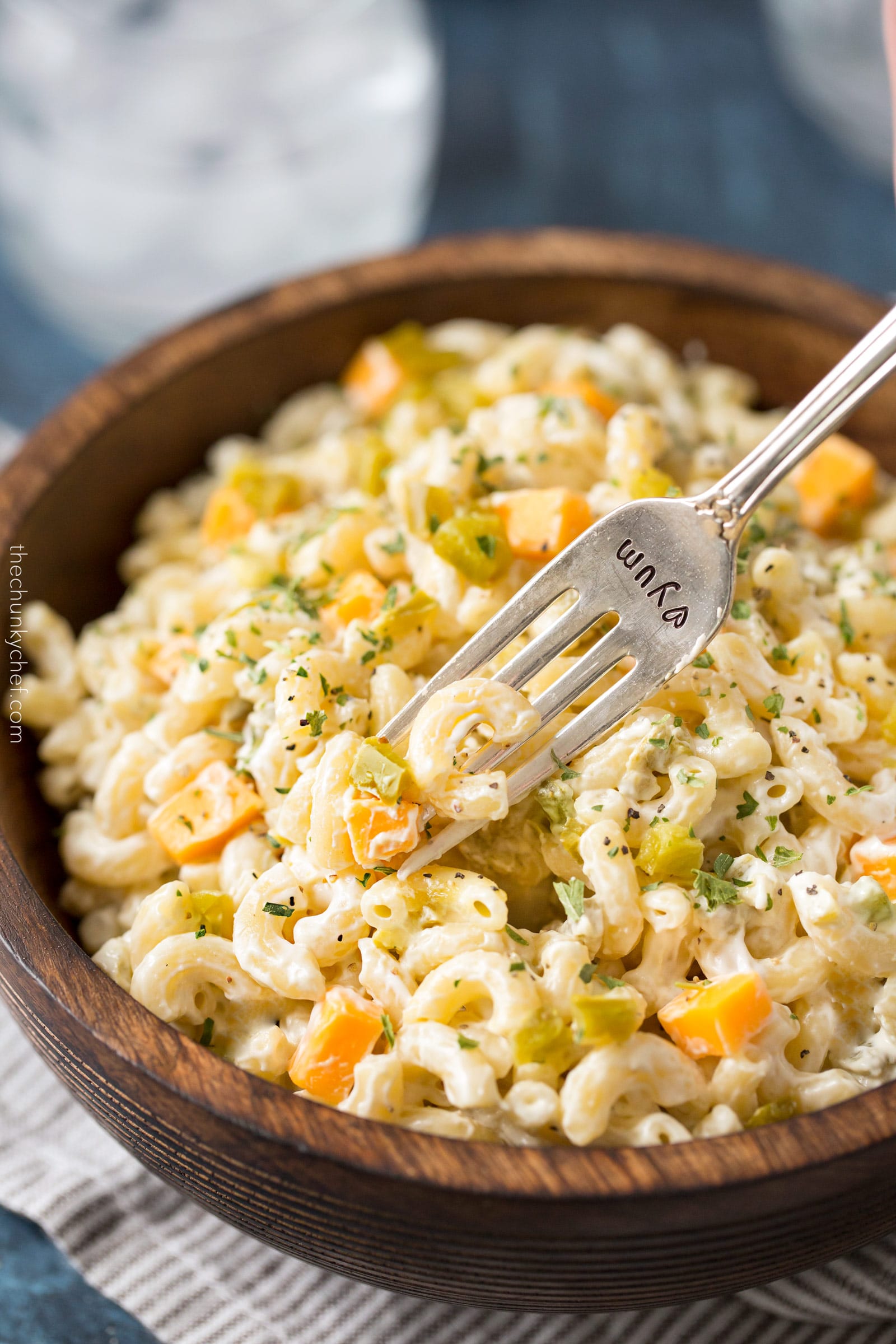 5. Taste of Home : Sombrero Macaroni Salad. SPIRAL PASTA, ground beef, and TACO SEASONING, Looks ABSOLUTELY INCREDIBLE
4. Spend with Pennies has the DILL PICKLE Pasta Salad. Dill Pickles are meshed in and 2 pickles are on top. This looks enthralling
3. Eat and treats has my third favorite. This is their macaroni salad. The ingredients include MUSTARD, CHEESE and FROZEN PEAS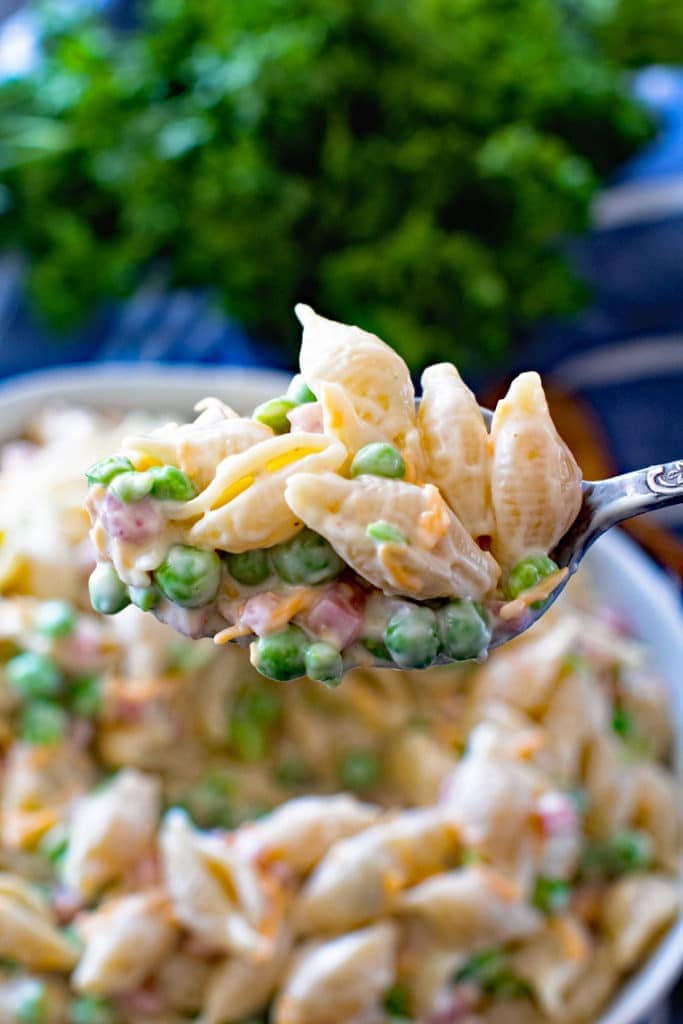 2 This is my second favorite. Dinner Then Dessert has the BIG MAC Pasta Salad. Now you which restaurant this correspondes too. Big Mac Copycat sauce, ground beef, and sweet relish make this delicious.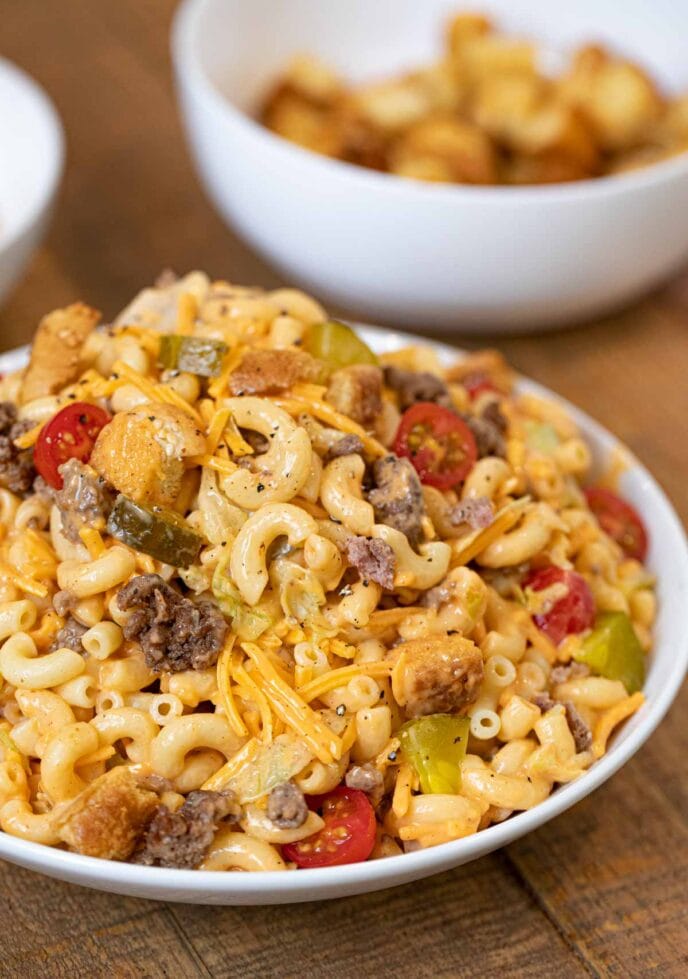 1 This by far is my favorite. Can't Stay Out Of The Kitchen has their Bacon Macaroni Salad.
This salad has color, pizazz and lots and lots of flavour.
Sweet pickle relish, colored peppers, paprika, dill weed and 5 slices of bacon make this an absolute treat.
Macaroni Salad Products
Other Posts You Might Enjoy
The World's Most Amazing 7 Layer Taco Salads
14 All-Time Greatest Salad With Shrimp Recipes
5 Really Great Ways To Make Greek Salad With Goat Cheese
The Most Amazing Salads Under 300 Calories !!!