Nothing screams leftovers like ham salad does. With these leftovers you can make an entertaining spread of crackers, with pickles and ham salad. With any of the following recipes they are sure to be all eaten up by the time the night is over. There are so many different ways that you can use left over ham salad. You can have Ham Salad on a croissant, on toasted bread, in a toasted sandwich and many more.
Below are my favorite Ham Salads
The Best Ham Salad – The Country Cook Click Here
Just look at that pink ocean. As you can tell in the picture, this is a great way to dip your crackers without digging out a food processor. This is a great way to get excited about leftovers.
Southern Ham Salad – A Southern Soul Click Here
It is indicated in this post that it's not just crackers that would be an ideal use for ham salad. This recipe can be used for sandwiches, dips and also on toasted bread. This recipe for all you ham salad lovers is one to really experience.
Old Fashioned Ham Salad – Key Ingredient Click Here
This Ham Salad recipe has a delicious mix of ham, creamy miracle whip, tasty mayo, dried onion flakes, dried mustard and dill pickle relish. Having the gang over?, consider putting this out at 4:00 before dinner time.
Ham & Macaroni Salad – Food.com Click Here
This Ham & Macaroni Salad is getting rave review and I can see why. Mayonnaise and mustard is swirled into a bowl full of ham, macaroni, creamy cheddar, crisp celery, onion and pickle. This is a festive choice.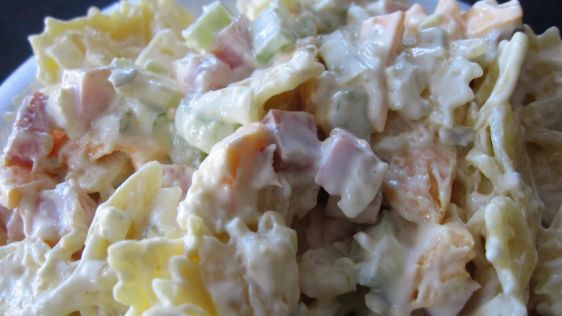 Deviled Ham Salad – Garlic & Zest Click Here
It's been described as tangy, sweet and spicy, this deviled ham salad is ideal for many different occasions such as Easter, Christmas and New Years Eve.
Ham & Pea Salad – Chin Deep Click Here
This is my favorite Ham and Pea Salad as it has the right mix of frozen peas, cold ham, two cups of shredded cheddar jack cheese and finely chopped onion.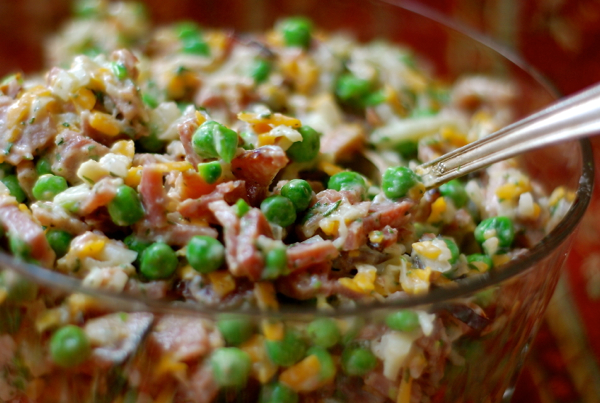 Cobb Salad With Ham – Allrecipes Click Here
Just going to switch gears a little bit. This cobb salad has a delicious raw of ham to make your lunch more bouncier. Nestled up against avocado and blue cheese. Dig in.
Ham Salad With Pineapple – Spend With Pennies Click Here
Curried Ham Salad – The Wanderlus Kitchen Click Here
Now if you only have 15 minutes that is all it will take to make this Curried Ham Salad with Mango. Ingredients include a cooked ham, a mango and curried powder, brown sugar and butter
How Long Does Ham Salad Last In The Refrigerator ?
Ham Salad can typically be stored in the refrigerator for 3 to 5 days.
How many Calories are in Ham Salad
There are approximately 240 calories in ham salad per 97 grams