Spinach Avocado Salad with Berries : Savory Nothings Click Here
Berries and Avocados are only the start of things. You also got Blueberries, strawberries, raspberries and almonds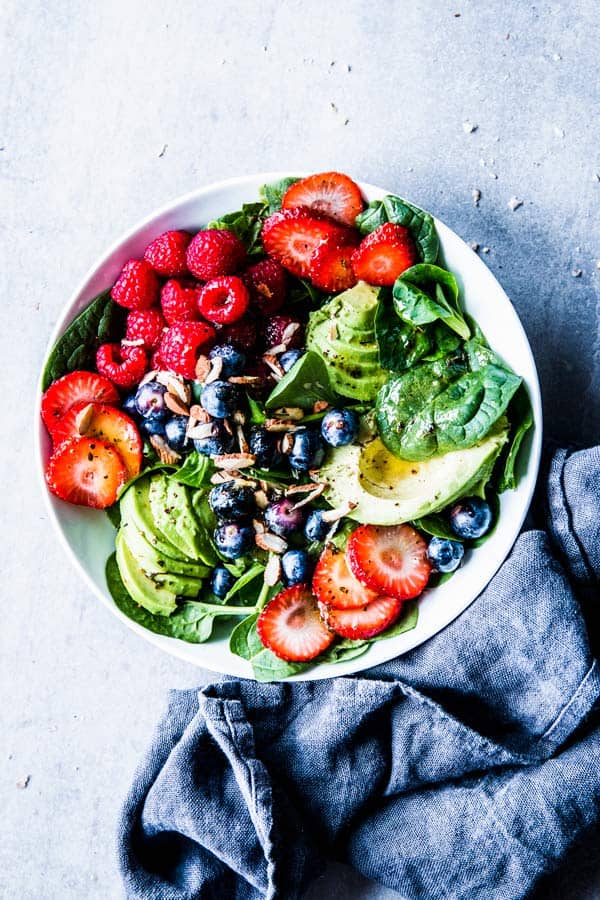 Blueberry Avocado Quinoa Salad : Ambitious Kitchen Click Here
Just look at those avocadoes spinning in this Blueberry Avocado Quinoa Salad. But best of all you are going to be showered with cilantro lime dressing.
Kale and Avocado Salad with Blueberries & Edamame : Eating Well Click Here
A delicious assortment of ingredients in this Kale and Avocado Salad. Edamame, Cherry Tomatoes, Goat Cheese and Dijon Mustard makes this a smash hit.
Berry & Avocado Spinach Salad with Feta and Pistachios : Closet Cooking
For those of you who indulge in the taste of pistachios, this salad is for you. Blackberries, blueberries, raspberries in a delicious ocean of creamy berry poppy seed dressing.
Berry Avocado Summer Salad : Fantastical Sharing Click Here
OK now this is quite the trio. Berries plus avocados plus chicken and to top it off is delicious poppy seed dressing.