Fun Facts About Salmon
Salmon has a STRONG sense of SMELL
Salmon changes color
The oldest salmon fossil is over 50 million years old
The longest trip a salmon ever took was 2389 miles
Best Flavours of Salmon
SALTY : soy sauce, capers
SWEET : maple syrup, orange juice or zest
SOUR : fresh lemon, fresh lime
CREAMY : cream cheese, yogurt,
PUNGENT : onion, shallat, garlic
Popular Salmons To Eat
sockeye salmon
coho
pink
chinook
Salmon Caesar Salad Products
Smoked Salmon Avocado Arugula Salad : Downshiftology : Click Here
The draw here is the smoked salmon and avocado. Salmon Lovers pay attention, your lunch time may of taken a twist.
Smoked Salmon Salad : I love Umami Click Here
This salad gives a cobb salad a bit of a jolt. Still you have the eggs but now BRIGHT, juicy CHUNKS of SALMON make this a gem.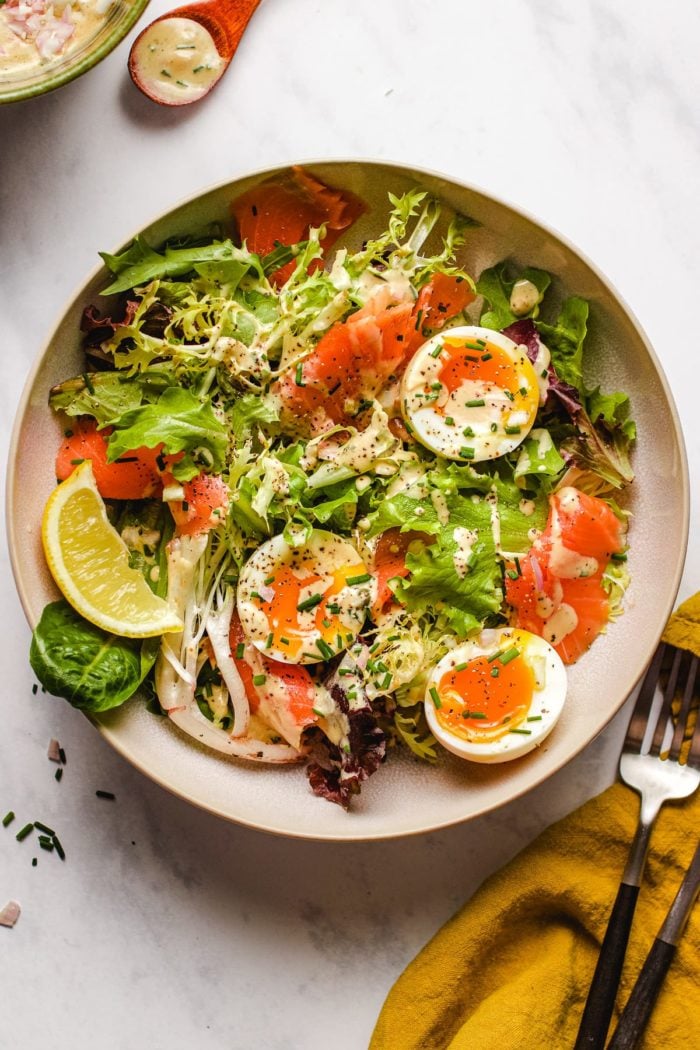 Smoked Salmon, Avocado and Fennel Salad : Feasting At Home Click Here
This salad is special occasion worthy. Slices of avocado lapping on the edges and smoked salmon plopped inside.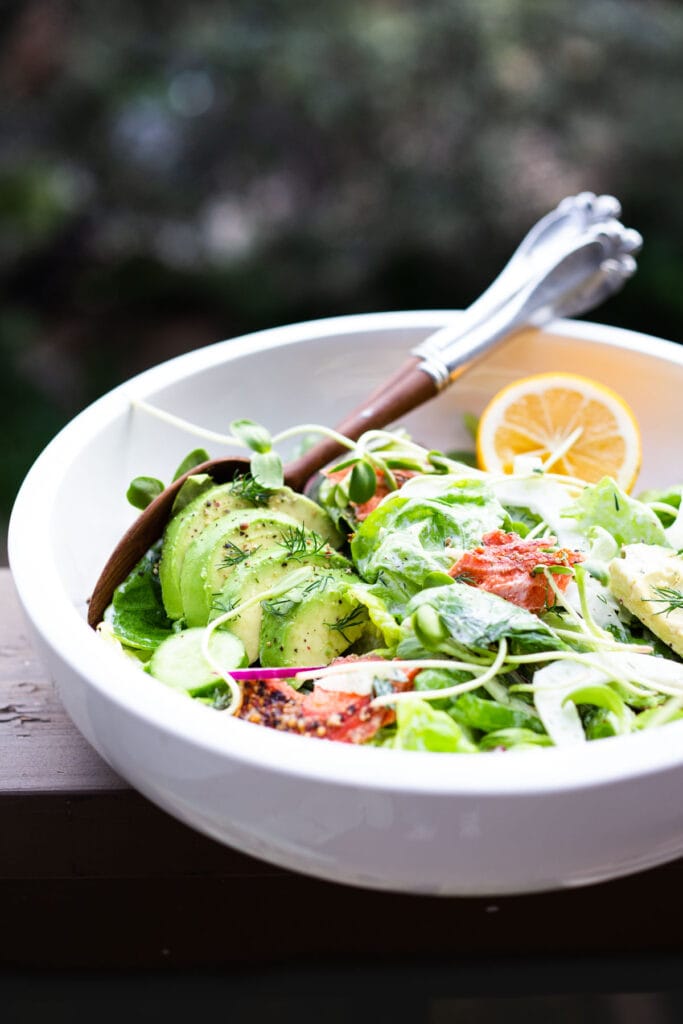 Smoked Salmon Avocado Salad : My Recipes Click Here
Take it away Salmon, this elegant salad would be the perfect fit for that special occasion
Smoked Salmon Breakfast Salad : Health.com Click Here
Are you getting tired of doughnuts and muffins for breakfast, well this is a big switch but a smoked salmon breakfast salad is on the menu.
Smoked Salmon and Trout Salad : Cooking Channel TV Click Here
This salad is ALL SALMON and ALL TROUT. This is kick butt fishing food.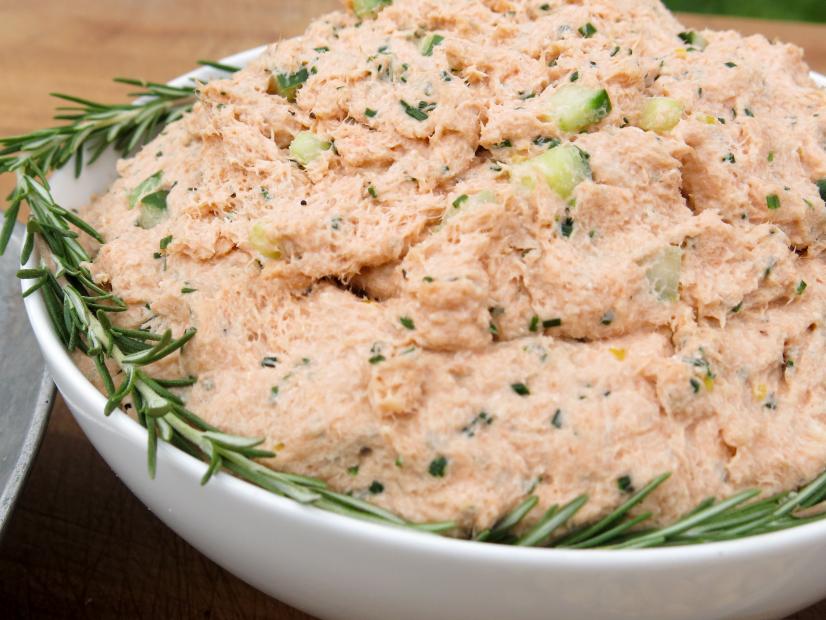 Smoked Salmon and Quinoa Salad : Hint of Healthy Click Here
Quinoa has arrived. It is all over the place. This is one to enjoy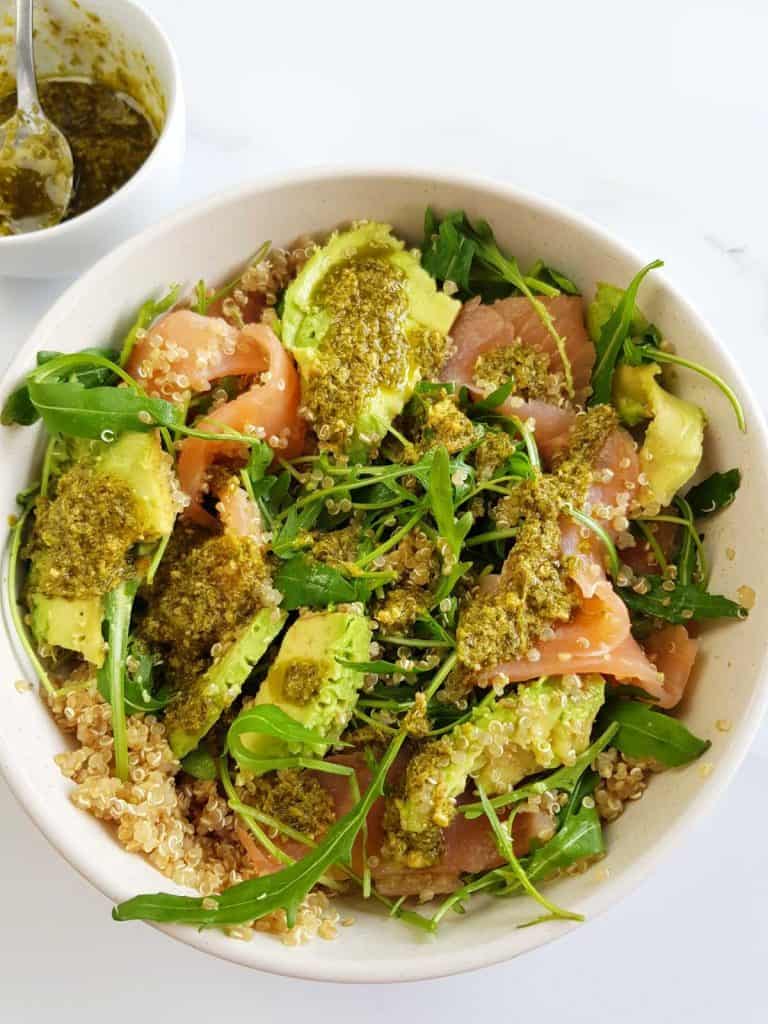 Tortellini and Smoked Salmon Salad with Dill : Dairy Farmers of Canada Click Here
This could be one of the best salads you might ever try. I love Tortellini, and with Smoked Salmon, this is one I would rush towards.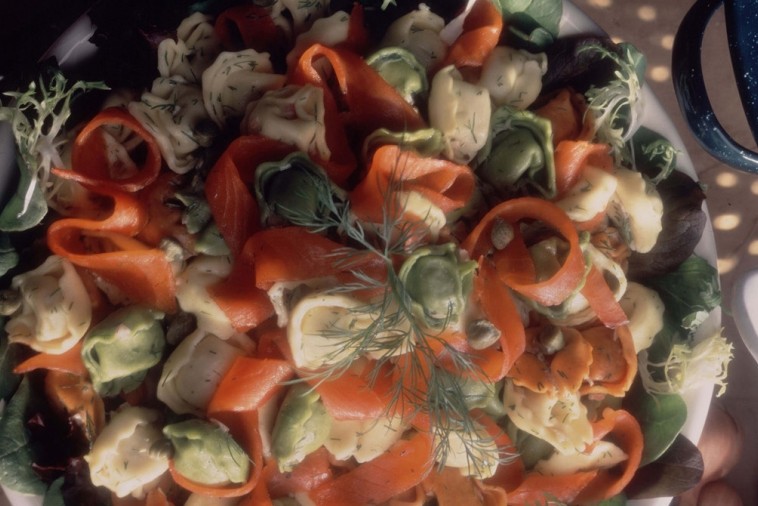 Smoked Salmon Panzanella Salad : Healthy Food Click Here
Hands down one of the easiest smoked salmon salads ever to make
Apple Cheddar Smoked Salmon Salad with Maple Dressing : Flavour and Savour Click Here
I'm way way stoked about the idea of Apples and Cheese being in the same salad with smoked salmon
Smoked Salmon Spinach Salad : Give It Some Thyme Click Here
Oh does this sound good. With Lemon Dijon Vinaigrette. If that doesn't sound good enough, just look at the pictures
Clementine and Smoked Salmon Salad : Tesco Real Food Click Here
Another spectacular Smoked Salmon Salads, this time with clementine oranges. You don't need a special occasion to make this salad.
Smoked Salmon Salad : Brooklyn Supper Click Here
There is something about radishes, no matter what the salad is that makes it add an umpf of color. But how many salads are you going to find that have watermelon radishes, look at this.
Smoked Salmon and Apple Supper Salad : Better Homes & Gardens Click Here
This salad is a great salad to have a bright sunny afternoon in the backyard.
Smoked Salmon, Asparagus and Avocado Salad : Caliac.org Click Here
These ingredients give this salad a punchy look and punchy flavor. Asparagus, Avocados, Red Onion and of course the star of these blog post Salmon.
Smoked Salmon Pasta Salad : Salt & Lavender Click Here
Making this salad, you will even impress yourself. Smoked Salmon just making itself cozy on top of that pasta salad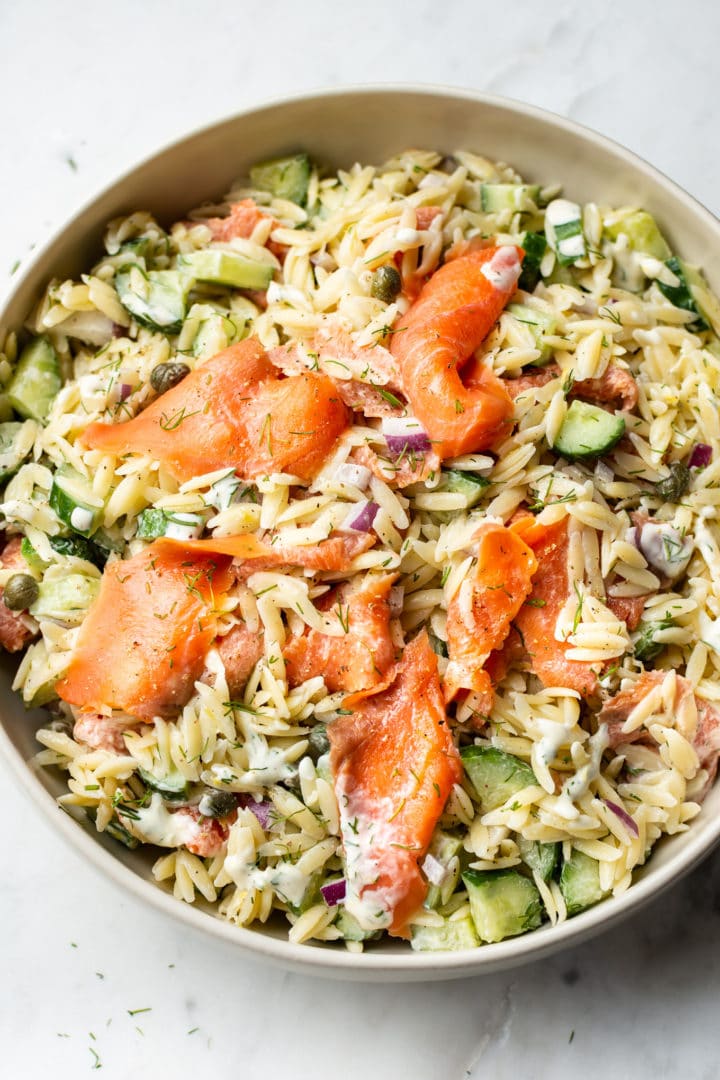 Smoked Salmon Salad with Blue Cheese Dressing : Two Purple Figs Click Here
This salad might one day make to my favorite salads of all-time page. This salad just makes you want to dance. AVOCADO SLICES, spinach CHERRY TOMATOES, eggs, SALMON and perfectly placed bread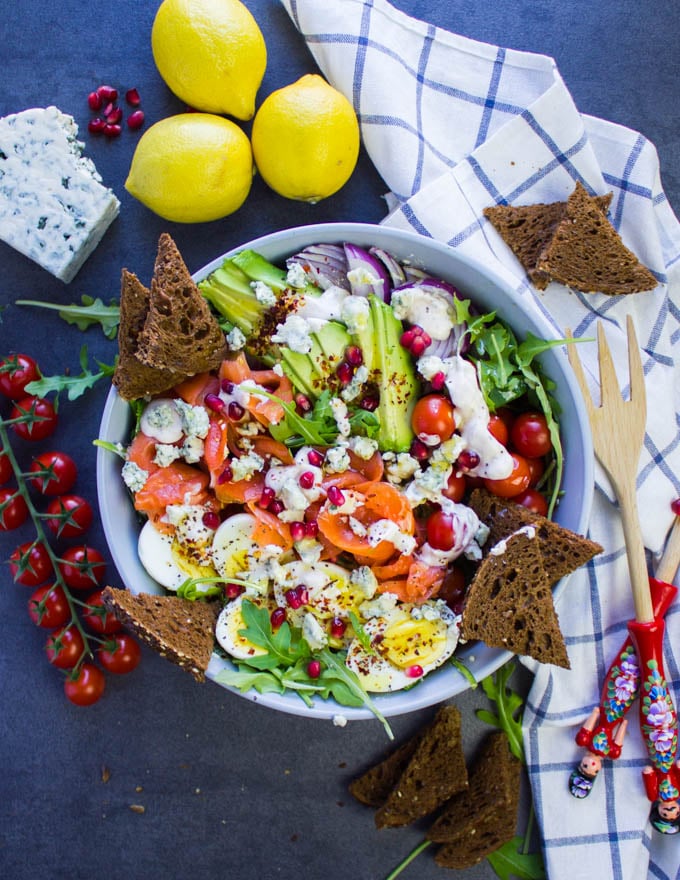 Layered Russian "Shuba" salad with Smoked Salmon : Grab and Go Recipes
At first I thought this was a cake. This salad is beautifully layered. Some of you may not be able to guess what the purple stuff is at the bottom.
Smoked Salmon And Melon Salad : Cuisine Fiend Click Here
You may have to look at the end zone picture to really notice the melon.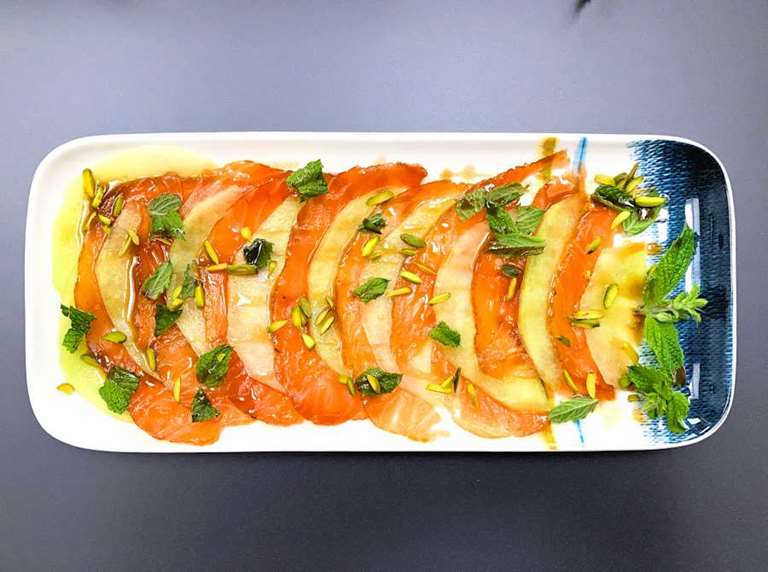 Autumn Salad with Apple and Smoked Salmon : Barrie Hill Farms Click Here
This is what your dinner table needs. Apples, Grapes, Celery, Sunflower seeds and of course smoked salmon
Other Posts You Might Enjoy
The Very Best Salmon Caesar Salads
The 21 Best Chinese Chicken Salads Ever
The Best Poke Salad Bowl Recipes Ever.