You Love Pesto?. Try these Delicious Pasta Salads With Pesto!!!
There is something about Pesto that really makes a big difference when you are enjoying dinner. Adding pesto to your pasta brings a whole world of flavor.
If you were to have a group of 8 people over for dinner and you serve them anything with pesto included in it, there is a really good chance that somebody is going to yell out, WOW that pesto !!!. If that happens you know you have done something right.
Consider any of these 9 pasta recipes with pesto. I hope that you will take one of these recipes the next time you think it is appropriate to have pasta salad at your next gathering.
What makes pesto pesto?
Pesto is made with Genovese Basil, coarse salt, garlic and extra virgin olive oil.
How do you make pesto from scratch?
You combine basil, parmesan, garlic and pine nuts in a bowl of a food processor and season with salt and pepper.
Then add olive oil mixed slowly until is emulsified, Then you store the pesto in a container and refrigerate for a few days
When was pesto first made?
1870 by Giovanni Battista Ratto
What does pesto taste like?
It is a thick, green sauce that tastes bright and herby from the basil and rich from cheeses and pine nuts. Pesto tastes very salty.
Here are my 9 favorite Pesto Pasta Salad recipes
Cookie and Kate has this Delicious looking Pesto Pasta Salad
Once Upon a Chef has this Tasty Pasta Salad with Pesto
Dinner at the Zoo has this Interesting looking Pasta Salad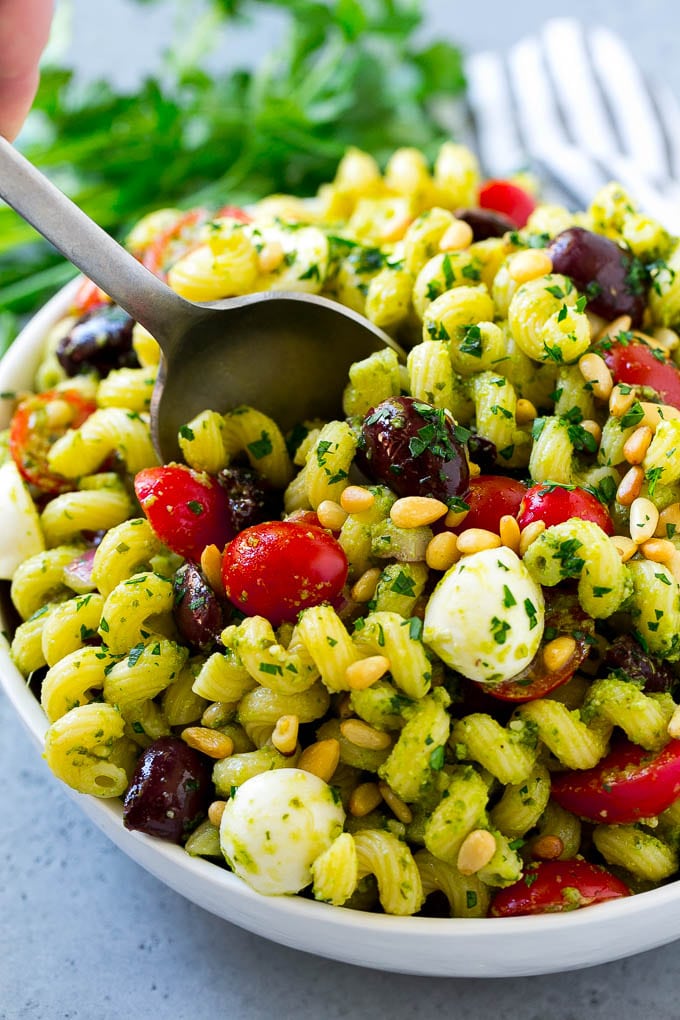 All Recipes has This Creamy Looking Pesto Pasta Caprese Salad
Fine Cooking has This Amazing Summer Pasta Salad With Pesto Vinaigrette
Crème de la Crumb has this Irresistable Chicken Pasta Salad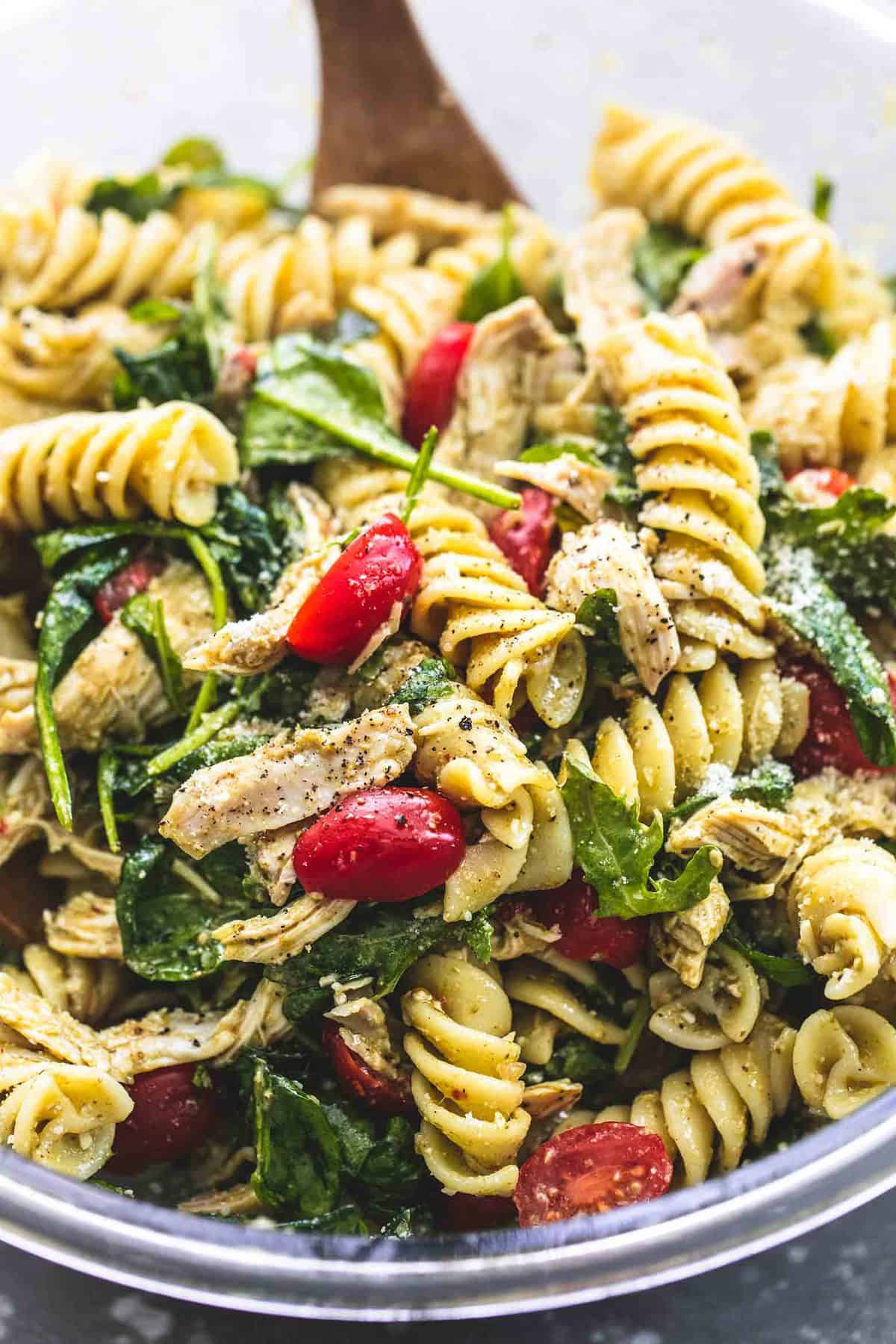 Food Crush has this Spectacular looking Creamy Avocado Pesta Pasta Salad
Show me the Yummy has this Yummy looking Pesto Pasta Salad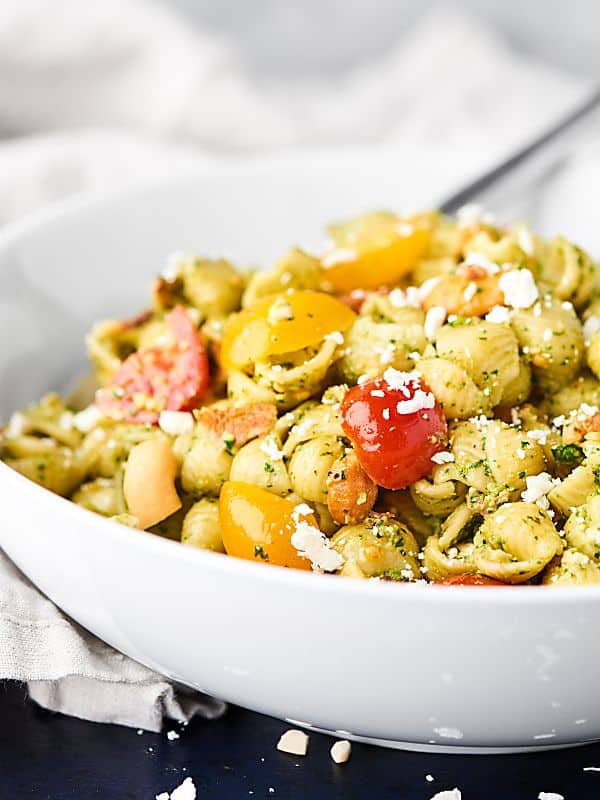 Food.com has this Cheese Tortellini Pesto Pasta Salad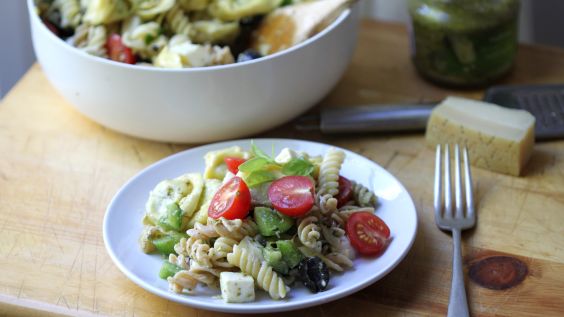 Conclusion
Pesto sure does have people wanting more. Can you think of another Pesto Pasta Salad recipe, if so, I would like to hear from you. If you tried many of these recipes or any recipes you found on your own, let me know.