Fun Facts About Figs
fig trees have no blossoms on their branches
figs naturally help hold in moisture in baked goods
California produces 100% of the country's dried figs, and 98% of the fresh figs
The early Olympic athletes used figs as their training food
Fig Newtons started in 1892
Turkey produces the world's largest amount of figs 306499 tons in 2018
Dried Figs Products
What Are The Sweetest Figs ?
Black Mission Figs would be the sweetest. The second most sweetest are brown turkey Black Mission Figs are narrow at the top and wide at the bottom.
Fig and Green Salad : Cooking Light : Click Here
This is complete utterly doable. Once you make this you can sit back, relax and enjoy the oh so goodness of the dried figs in this salad. Walnuts, carrots, goat cheese, this looks spectacular.
Fig Goat Cheese Salad : Eating Well Click Here
You don't need a special occasion to make this recipe. These dried figs are stemmed and sliced to perfection.
Radicchio & Arugula Salad with Dried Figs, Walnuts and Pecorino : Healthy GF Foods
Served this up and you will have smiles served at the table. Everyone gets a fork, everyone gets a smile
Vegetarian Chopped Salad with Dried Figs and Avocado : Valley Fig Click Here
Ladies and Gentlemen please welcome the cast, Arugula, Cherry Tomatoes, Romaine, also starring yellow peppers, red peppers, cucumber, chickpeas, avocados, blueberries and special guest FIGS.
Healthy Fall Fig Salad : The Healthy Toast Click Here
Roasted Sweet Potatoes have arrived in the building. They will be coupled with goat cheese, hazelnuts, and arugula.
Fig Salad with Goat Cheese and Baby Arugula : Striped Spatula Click Here
This is fig lover approved. BRIGHT GREEN and bright brown. This is a night out to romance.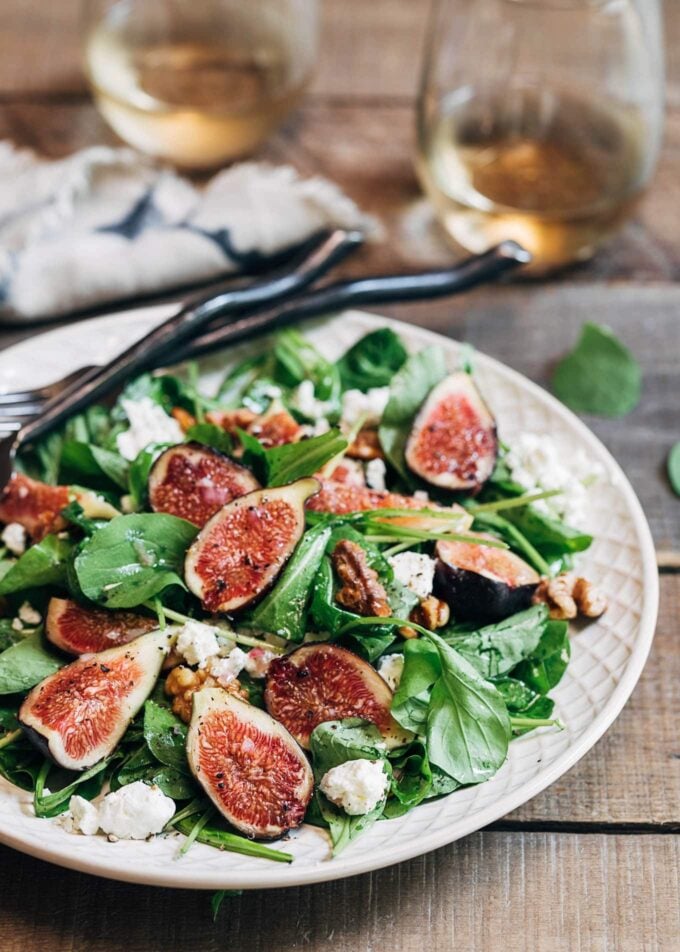 Fig Spinach Salad : My Darling Vegan Click Here
Oh I absolutely love looking at those big gigs and the cutting board that has walnuts CRISP spinach.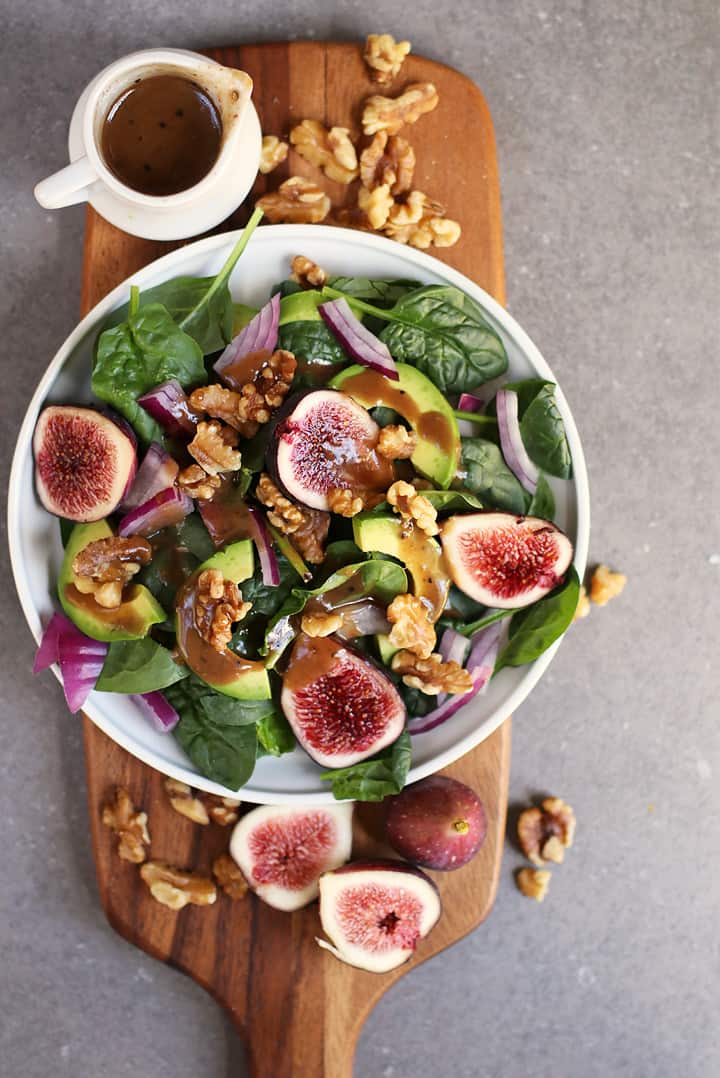 Grilled Halloumi Salad with Quinoa and Dried Figs : Food and Flair Click Here
If you are wondering what can you do with so many figs, this is one salad that you can try. Halloumi cheese, mixed greens, radishes, pine nuts, this is spectacular. Ohh the bread looks good too.
Chewy Dried Fig Apricot Spinach Salad : Sweet Pillar Food Click Here
Long pieces of spinach, chopped walnuts, dried figs, and apples make this a stand out. 3 ingredient dressing as well. Fig Jam in the dressing, oh my goodness.
Valley Fig : Quinoa Salad with California Figs and Orange Ginger and Mint
This is just like putting your feet in the sand. So cozy, so delightful. Orange Ginger has the magnificent taste.
Tarragon Chicken Salad with Almonds and Figs : Food and Flair Click Here
Imagine a thick scoop of this delicious tarragon chicken salad spreading right on top of this bread.
Countries That Produce The Most Figs
Turkey
Egypt
Morocco
Algeria
Iran
Spain
Syria
United States
Tunisia
Brazil
Albania
Ways To Enjoy Figs
caramelized figs and ravioli
robiola stuffed figs with pomegranate
fig bruschetta
prosciutto wrapped grilled figs
pizza bianco with caramelized onion, blue cheese, figs and balsamic
fig and rosemary chicken pizza
pork loin with figs
Other Posts You Might Enjoy
The Very Best Spinach Salad With Feta Recipes
The World's Best Greek Salad With Spinach Recipes
The Very Best Sabzi Khordan Salads !!!
The Very Best Salads With Berries and Avocados