Fun Facts About Steak
A cow on average is made up of 40 percent steak
July 4th is the most popular day to eat steak
Only a few New York Steakhouses still have prime rib on the menu, it gets to be too expensive
The word steak comes from an old Saxon or Norse word called Steik.
Over 33 million cattle each year ends up as steak
Over 770000 metric tons are shipped from America to different countries.
Other Steak and Blue Cheese Foods
Chargrilled Steak with Chopped Salad and Blue Cheese Dressing : Olive Magazine Click Here
STEAK LOVERS, alright here we go. Rump steaks, olive oil, arugula, spring onions. radishes and smoked paprika.
Steak Salad with Blue Cheese, Avocado and Basil Balsamic Dressing : Laylita.com Click Here
This is a great combination of BLUE CHEESE, STEAK and AVOCADOES. I just love looking at those strips of steak and those perfectly cut avocados.
What Meat Goes Well With Blue Cheese ?
In addition to sparkling red wine, blue cheese goes really well with beef and steak.
What Goes Well with Blue Cheese
Steak Salad with Blue Cheese Crumbles : The Spicy Apron Click Here
What an elegant way to spend the night with this steak salad with blue cheese crumbles.
Blue Cheese Steak Salad : Kiddo and Soul Click Here
I love what Jenny has for dinner. Not just steak and blue cheese but you but bacon in to the mix, oh my goodness. But that's not all. Served on the side is her balsamic dressing.
Keto Steak and Blue Cheese Salad : Pure Wow Click Here
Romaine, balsamic vinaigrette, tomatoes, red onion, steak and blue cheese makes this idea for your keto diet.
Black and Blue Steak Salad : Cooking Light Click Here
Spice rubbed blackened steak and crumbled blue cheese, arugula, this is a must try.
Steak Blue Cheese Avocado Salad : Aberdeen's Kitchen Click Here
Avocados are amazing, now just picture them with delicious steak and blue cheese. That steak is just waiting for you.
Grilled Steak Salad with Balsamic Vinaigrette : Damn Delicious Click Here
I could look at this salad all day, let alone eat it all day. Could you blame me. Look at the variety of delicious ingredients all in one plate. This is amazing.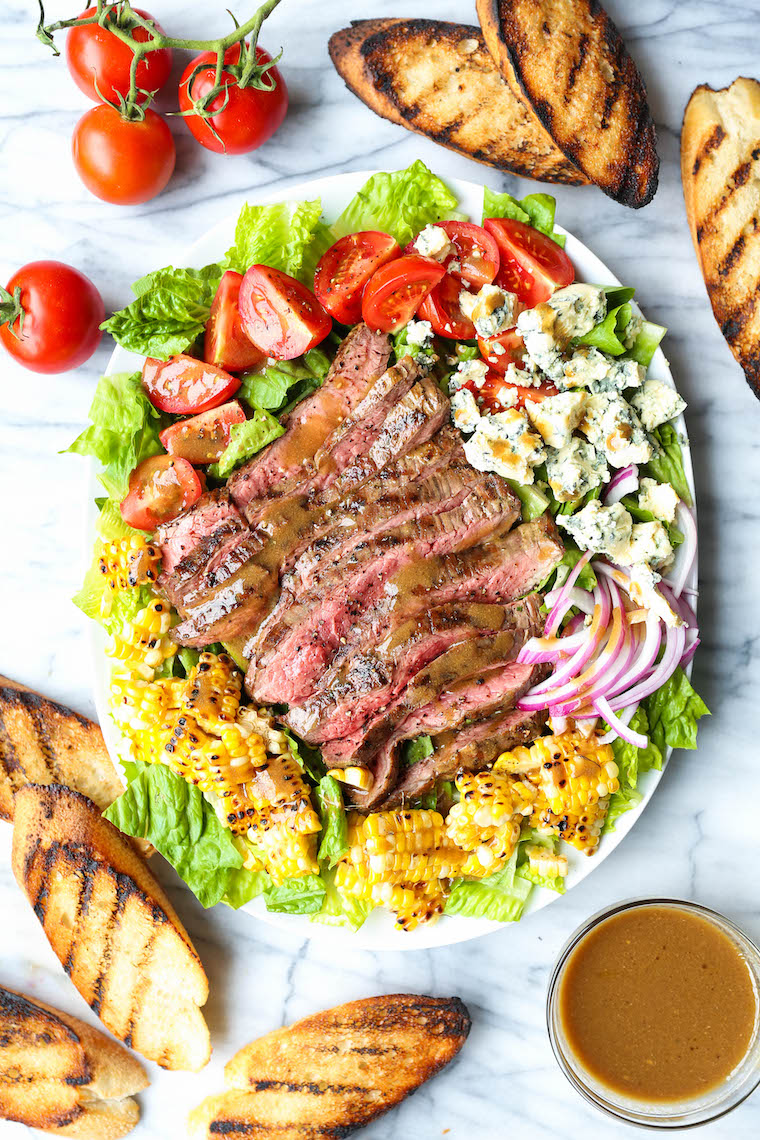 Grilled Blue Cheese Steak Salad : My Everyday Table Click Here
Ingredients that are included, steak, romaine, red peppers, blue cheese crumbles and a baguette.