How did Dill get its name ?
Dill is called Dill because it is an annual of the carrot family native to the Mediterranean region and Southern Russia. It grows as a field weed the southern countries of Europe and naturalizes in Mediterranean weather.
Dill is widely grown in Eurasia. It's leaves and seeds are used as an herb or spice for flavouring food.
Fun Facts About Dill
dill has been found in the tomb of Egyptian Pharaoh, dating back to 1400 BC.
dill is an annual herb in the celery family Apiaceae
dill was mentioned both in the Bible and in ancient Egyptian writings.
What is Dill commonly used for ?
seafood dishes
vinegars
yogurt sauces
potato salads
soups
garnish
Here are 15 Salads that are used with Dill
Chickpea Salad recipe with Carrots and Dill : Cookie & Kate Click Here
This is perfect for a no cook lunch. Awesome, more time to talk to people during lunch. Just look at the sea of chickpeas.
Dill Garden Salad : Taste of Home Click Here
This salad has quite the Christmas look to it. Bright RED, Snow WHITE, and oh that Christmas Tree GREEN. Ideal for every month.
Cucumber and Tomato Salad with Dill : The Kitchen Magpie Click Here
Just look at those YUMMY chips of cucumber. Cherry Tomato and Onion help decorate this salad.
Lemony Carrot Salad with Dill : Eating Well Click Here
ORANGE ORANGE ORANGE. Look at the mountain of carrots with chopped scallions on the hill. Lunch baby, oh that looks good.
Chicken Salad with Lemon and Dill : Skinny Taste Click Here
You bet. Chicken salad makes it way on to the circle. A wedge of lemon as the sidekick makes this a great show.
Dill Cauliflower Salad : Blue Jean Chef Click Here
THIS IS A MUST MUST try. We are talking thick CHUNKS of bacon, nice delicious pieces of cauliflower and dill is sprinkled everywhere.
Cucumber and Dill Salad : A Fork Stale : Click Here
Look at the nice uniformed chips of cucumber mixed in with mayonnaise. This in under 10 minutes.
Creamy Cucumber Salad : Click Here Wholesome Yum
WATCH OUT. Here comes the sour cream. This is one you must try next time you are in the sour cream mood.
Macaroni Dill Salad : Simply Stacie Click Here
Talk about rubbing elbows. Well try this. Elbow pasta turned and turned with sour cream and mayonnaise.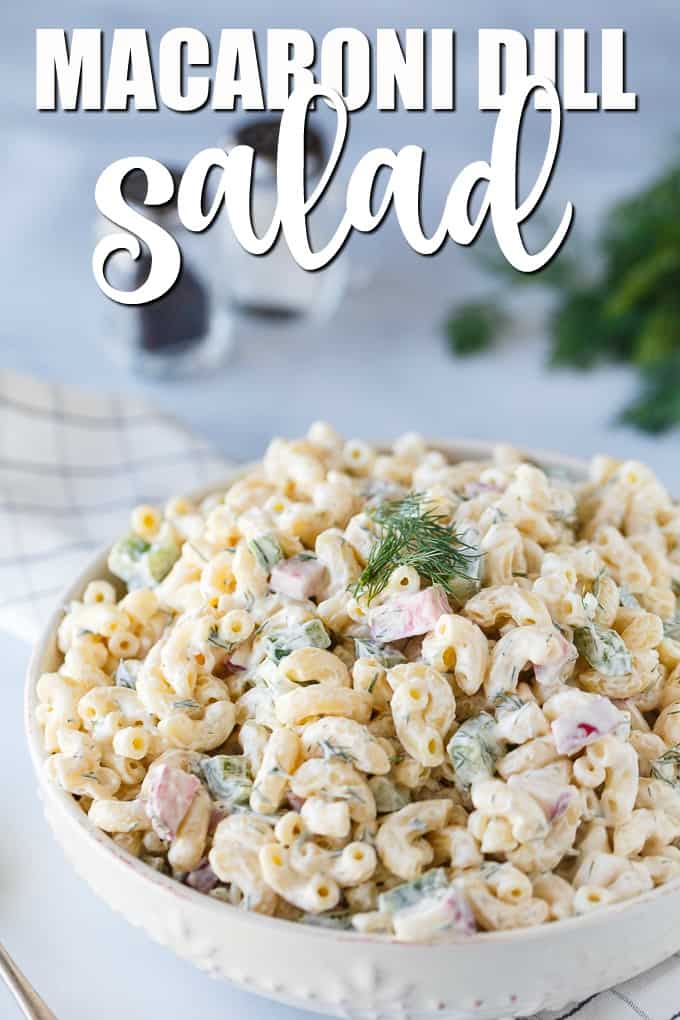 Avocado Dill Pasta Salad : Planted and Picked Click Here
Just look at this set of twins right here. Rigatoni has arrived and it is hanging out with cherry tomatoes, onion and cucumber.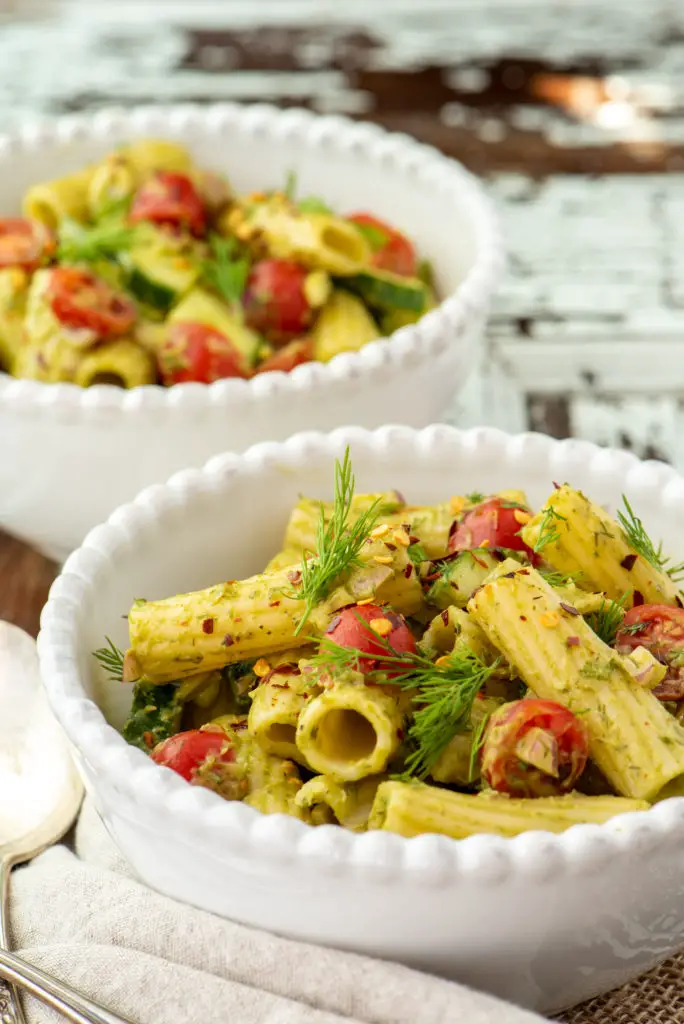 Dill Greek Yogurt Salad : She Wears Many Hats Click Here
This is the double green machine.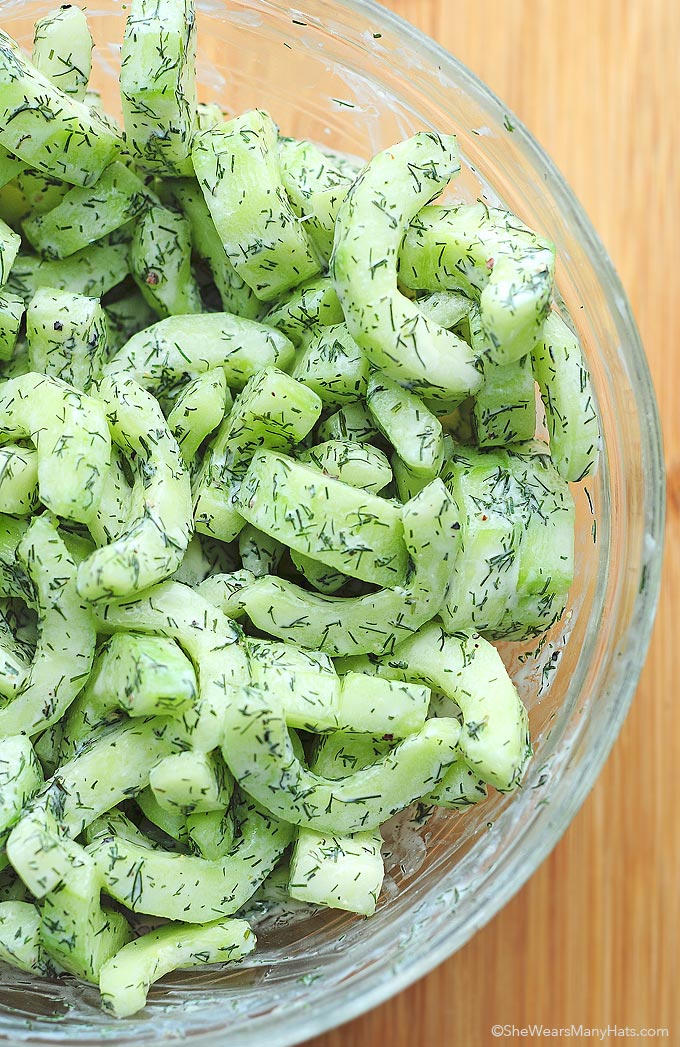 Cucumber Yogurt Dill Salad : Real House Moms Click Here
This Cucumber Yogurt Dill Salad is one you might want to try.
Cucumber Dill Salad : The Spruce Eats Click Here
Cucumbers here are thinly thinly thinly sliced. The red onion gives it some extra color
Fresh Dill Salmon Salad : Sparkles and Sea Salts Click Here
Now does this sound spectacular. A delicious mouthwatering scoop of dill salmon just kicking it's feet up in the avocado.
Creamy Dill Potato Salad : Fraiche Living Click Here
And to round things out, a salad that is very creamy. This one is sure to leave the table fast.
Other Posts You Might Enjoy
The Very Best Chicken Salad Recipes
The Most Incredible Potato Salad Recipes
The Very Best Chicken Salad With Cranberries Recipes
The Best Greek Salad With Basil Recipes